10 Things To Know Before Going On Honeymoon Trip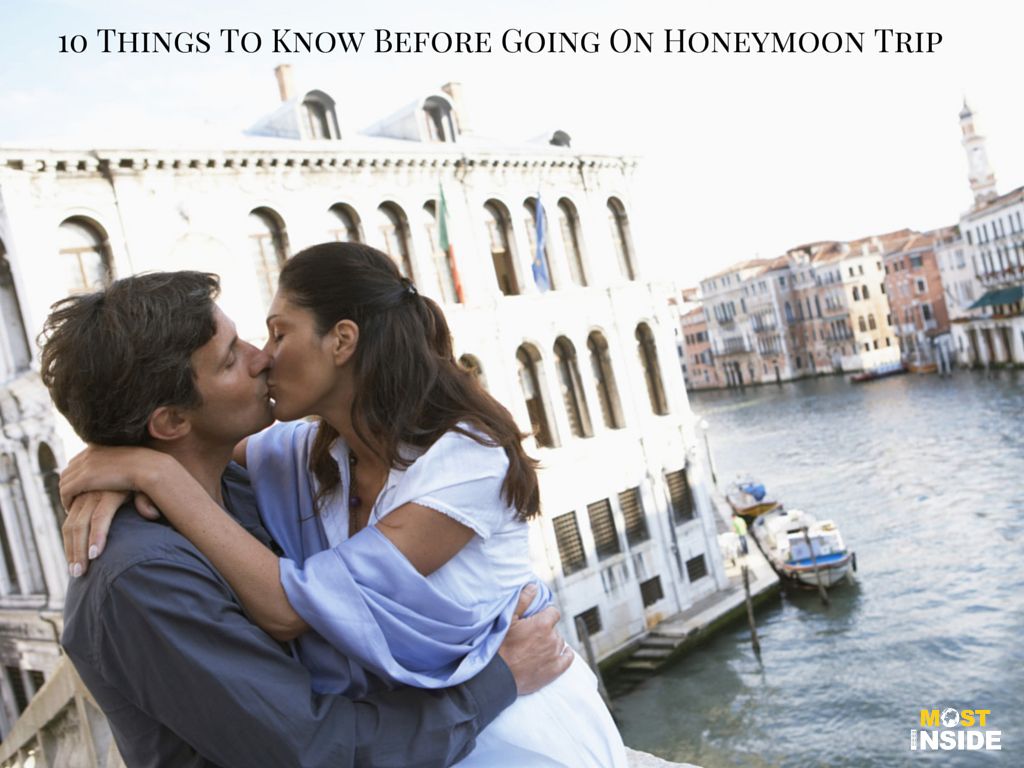 After a long strenuous wedding hustle bustle, every newly wed couple want to spend some lone and quality time each other without any interruption of relatives, friends and in-laws. People normally start imagining their honeymoon exclusive trip months before marriage. However, many couples and people are not aware of some real essential things to know before planning and going on honeymoon trip. Honeymoon is the best ever time after wedding for the couples to each other and should even plan together for this. Here are few things to keep in mind before planning out on a honeymoon trip..
1. Advance planning
The first and foremost thing is honeymoon tickets to book in advance to avoid last minute booking hassles and cancellations. It's best to book advance much before the wedding like 6 months before, to enjoy your honeymoon without any stress and worries.
2. Take your partner's preference
Before booking any tickets for your honeymoon, ask your partner if he/she has got any dream destination or close to it. Even if you can't talk about this take help of your common friends or sisters and brothers to find out.
3. Ask your partner about the duration
Duration of honeymoon trip is very much important for those who have to take official leave for wedding and honeymoon. So, better ask your partner about how long it could be easier for them to spend on honeymoon and adjust your timing according to it.
4. Budget planning
If you want to have a dream honeymoon and ready to let expenses go free then, it's amazing for you but those who want a budget friendly honeymoon trip better compare as there are so many travelling agencies to get the best and reasonable budget for your happy honeymooning.
5. Plan according to the climate
If you plan a honeymoon trip then it's too necessary to have the idea about your destination's climate and weather, be it abroad or within India. Well, no one wants to be getting all sweaty on honeymoon travels and adventures. Pick one suitable honeymoon spot which could be real soothing and fun.
6. Pick your destination according to both of your interests
If you are scenic lovers your preferences should be Kerela, Shimla, Darjeeling and if adventure lovers then Kullu Manali, Ooty and if you want to get romantic in beaches then probably Goa, Lakshdweep Islands and Andaman Nicobar Islands.
7. Have a first-aid kit in your bag
A first kit for emergency health issues like cold, cough, fever, headaches, or cuts or bruises will be helpful before consulting doctors.
8. Nice digital camera or a perfect DSLR one
Honeymoon memories are cherished forever as they are most beautiful memories of every newly wed couple. So have a nice camera be it a digital or your super DSLR camera to take all the memorable and beautiful snaps.
9. Take some best lingeries for every night and new fresh briefs
Men should not think about taking their old smelly colour faded briefs to their honeymoon as it could be really awkward and annoying. So have some fresh pairs of vests and briefs in your bag. Women should get some dark coloured lingeries be it red, black, marun, royal purple, violet and dark satin pink to add some more excitement in their honeymoon best chapters.
10. Plan out some surprises
If you are planning your honeymoon then remember always to surprise your spouse romantically or erotically. Take your spouse for a beach dance party, or a romantic dinner on beach beside a cozy cottage, or a body message whatever you think will be most suitable for you.
You may like this
Like us on Facebook for more updates