Absurd Indian Mentality Needs Slap or Salute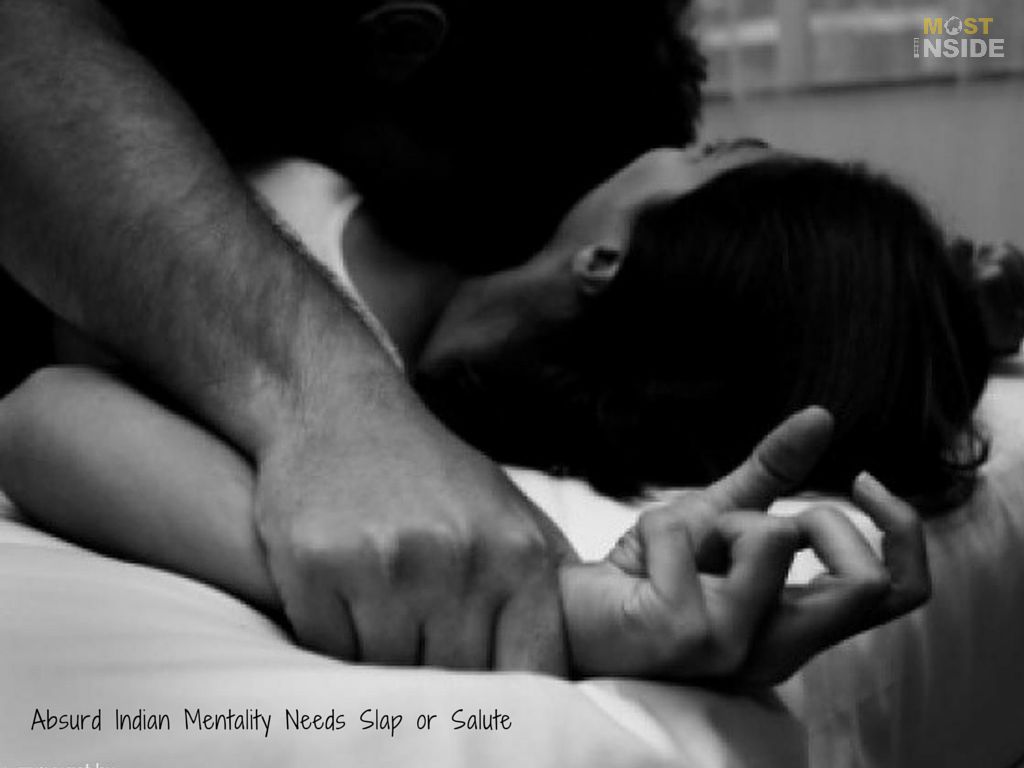 Typical Indian Mentality which has no valid logic and is also despised by some of the logical Indians itself. We Indians always use to blame others when we find any kind of injustice prevailing but tend to remain silent when injustice prevails for our benefits and advantages. Mentality is something can't be altered. People can be motivated, inspired and influenced but nurturing the thoughts and mentality is their own choice. Here I'm addressing Indian mentality as absurd due to many valid reasons which I'm sure no one of you can't deny or disagree. For example, when we meet with an accident, we expect other people to come for our help and assistance. But in the same scenario when any Indian becomes a victim of an accident, we avoid to help that person due to our fear especially to avert police investigation. Hence we show our insensitive and unsympathetic trait. Here are some of the bold reasons to prove my argument over typical Indian mentality.
1. "Ladkiyon ke itne armaan nai hone chahiye"
Girls should not have too many wishes and desires. There are many people even parents and relatives who say this exact line to their daughters or sisters. But, none of us have ever asked the reason, why a girl should not have her own desires? Is she not a human? Or, doesn't she have the rights to dream or desire? What's wrong with a girl who has too many desires and wishes? Is this world only for men, not for women? What a bullshit!!
2. "Are jawan ladka tha ho gya galti..shareef hain hum sab, matter ko complicate na kia jaye to hi acha hai"
It was mere a mistake by a young guy and as he is from decent family, matter should not be complicated by any police case or issues. Guys have the right to do anything, they could rape someone or harass or molest any girl they want as their blood is from decent family. They should not be accused or convicted. But still girls should not desire more. Wow!!
3. "Uncle hain beta, kuch nai hua…is bareme kisise baat karne ki zaroorat. Samjhe?"
If any of uncle or relative harass or molest a girl or a kid then that matter needs to be indemnified or veiled as they are your relatives. Why? Are crimes committed by relatives not against the law? Why we need to stay mum when our own relatives exploit us? Is this humanity?
4. "Arre maine to keh dia bahu ko ke ghar me beta hi ana chahiye"
Daughter-in-laws are bound to give birth to a son only. I want to ask questions to all mother-in-laws out there that to which gender they belong? And what would have happened if their mothers would have killed them or would never have given birth to them? And if all daughters will be gone from this world, from where they would be getting the brides? After extinction of tiger species from India, I think next will be female species. Isn't it?
5. "Are pati hai tumhara, thoda josh mein agaya toh thappad maar diya, aisa toh chalta rehta hai"
Husbands can slap their wives if they lose their temper as it is common in marriage relationships. We women curb all our happiness, desires, career prospective, family even our surname after getting married. We give our 100% devotion to our husbands and in-laws family but in return all we need is love, respect and support. But we are humiliated, tortured even beaten by our drunkard, conscienceless and insensitive inhuman husbands and it's very common. We women should accept it as our fate. Then we women could also slap our husbands after getting hyper as it's common in every relationship. Isn't it?
6. "Main naukri kar raha hoon na?Tum ghar sambhalo, paise to hai hi"
Wives are not allowed to work after marriage as husbands are there to earn for bread. Wives are supposed to take care of house and household work. Why? Are women not educated or not capable of earning and taking care of home side by side. I wonder what's wrong with you people.
7. "Shade kar lo, phir jitna chaho padh lena"
Girls can go for higher study according to their wish only after getting married. I think, parents don't want to waste their money on educating their daughters as daughters have to leave one day and parents would not be getting benefitted. But after marriage we women should only take care of household work, we can't even study or go for work.
8. "Aap ise dahej mat samajhna, soch lena beti ke parivaar ke liye de rahe ho"
Demands are not dowry as they are gifts for groom's family. Ok now demands should not be considered as dowry. Those demands and gifts are for daughter's in-laws family. What rubbish!!
9. "Arre protection ki kya jarurat, pills le lena"
Men will not take protection but women should take pills which has so many side effects. How insensitive are those men who don't want to take the responsibility of child control, only for their temporary pleasure?
10. "Are madam, aurat hain aap aapko itna bolna shobha nai deta"
We are women and we don't have the right to speak as it doesn't suits us. We women are humans too and according to the Indian constitution every person has the right to speak. All freedoms are only available for men, not for women, according to Indians.
11. "Wife ho meri tumpar to mera haq banta hai"
Husbands have the right over their wives to rape them or to molest them anytime and anywhere they want. As we are their own property and they have the license to rape us.
12. "Ladki hain, report karenge to jhamela khada hoga aur badnaami b hogi"
Women are not supposed to report in police as it could be harming her image socially. Why? If any man rapes us, molest us then he commits the crime and why women should be ashamed of that? We are the victim not the criminal. Criminals should be punished anyhow and doing this no women should feel ashamed of herself.
This is the only 20% examples of absurd Indian mentality that is prevailing in our nation that I am showing you, which not only discourages our citizens and society but also makes our nation a backward nation. Infrastructures, partial education, laws, developments doesn't makes a country a developed country, a well developed country needs developed, well cultures, logical and inspiring mindsets which improves the nation every day, every minute. Just think about these kind of mindsets and decide yourself that is this India that we want to be in? Figure out whether this typical and absurd Indian mentality needs a slap or salute.
You may like this
Girls!! All Indian Men Are Not Same
Woman walking in Delhi wearing Jeans or Salwar Dress, doesn't make a difference on idiotic minds
An Inspirational Social Experiment on Public for Women Harassment and Molestation
Empowering Every Woman's Choice, "My Choice" – Deepika Padukone