Amazing Things About Crazy Friendships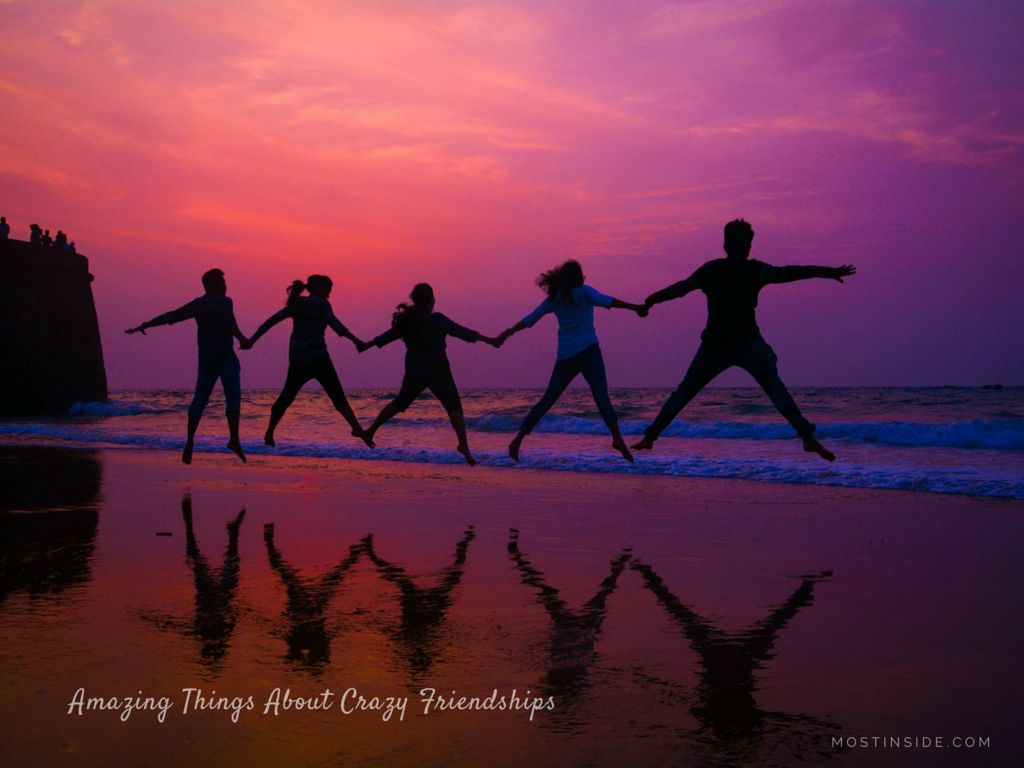 Friends are the best ever blessings from God. Friendship has got no terms, no conditions, no selfishness and no 'if's and 'but's. Friendships is like the cement which makes a strong base to make it last long. Friendships can be really weird, crazy and insane if the friends are totally wacky and insane. People are really fortunate who have real crazy friends who believe in doing all insane things together rather denying over the crazy thoughts. Crazy friends make best friends filling your life with all excitements and thrills and never let your life to be a boredom. And this craziness keeps us alive and makes us ROFL at any situation be it amazing, memorable or a troublesome scenario. Those crazy friends give us smile and laughter with no expectations except love. Here are some amazing things to about crazy friendships. I guess, most of you know it if you have a real crazy friend circle.
You will have amazing stories
Your friend circle will always make amazing and best stories if you have some insane and crazy friends. Whether it's a trip to Goa, or a party or a friends out night you will have the best exciting experiences that you will definitely add to your album.
They will make you go insane
Those friends can only drive you all crazy when you feel like losing everything and low. They make your worries fade away and bring you to a new crazy world to be carefree about life and enjoy it fully.
They will give their horrible solutions and will make you laugh
If you are ever in a big trouble and trying to get a solution, these friends never get you a solution but make you ROFL by their wacky and horrible solutions.
Crazy friends never say no to new things
If it's a wild idea, your weirdest friends will plunge into to try out those real wild and extreme thrilling ideas. And unfortunately, they succeed effortlessly adding you to the list.
They will slap you when you shed your tears
Formal friends try their best to stop you from crying either talking to you, showing you right direction, giving you solutions, but crazy friends simply slap you without any second thought to make you stop crying.
They make weird faces to spoil your duo snapshot
They can't just let your snap to be best and flawless one.
Crazy friends always tag you in the photos in which you look really ugly
They intentionally tag you in the group photos in which you look ugly and when you ask to remove it, they tag some more people.
They never say no to crazy selfies
Crazy friends never say no to crazy and weird selfies making those really insane ones.
You don't have to care how you look
Your friends never judge you the way you look. They simply love you the way you are.
Recommended: Why Cousins Are The Best Friends We Could Ever Have?
You don't have to say anything, they get it
Crazy friends always get your problem looking into your eyes. They don't need any words.
You can insult each other with ultra slangs
Crazy friends love to insult each other verbally when it comes to super slangs. No one wins, and no one loses.
Your friends are ready to kill anyone who says anything against you
They can't bear any words against you from anyone and get ready for a fight even to kill.
They fight with your seriously and come back to you in 5 minutes
Crazy friends can never stay away from you. They fight and again patch up in 5 minutes.
Crazy friends always insult you before your love partner
These friends find it really satisfying to insult you in front of your girlfriend/boyfriend.
You can share anything with them
You can share anything with them literally about anything be it your love, your family, your pimples, your night falls, your masturbation experiments, your crush, your fantasies anything.
Crazy friends don't plan out to meet you
These friends don't need any day or schedules time to meet you they just miss you and climb into your room through your window.
They always love to scare the shit out of you
They always love to scare you by all horrifying and insane tricks. And keep laughing when you get scared terribly.
You can laugh with your crazy friends on no reason
If you feel laugh and both of you start laughing like anything, ROFL that even without any reason.
Crazy friends always irritate you
They love to do this. Irritating you is their friendship right which they not gonna stop ever. So, you have to live with it.
Always mess with your stuff or never return it
Your crazy friends either mess with all your stuffs or will take your stuffs to use and never return it like those stuffs never ever belong to you.
Recommended: Is Marrying your Best Friend a Good or Bad Idea?