Easy Fitness Mantra(s) by Rujuta Diwekar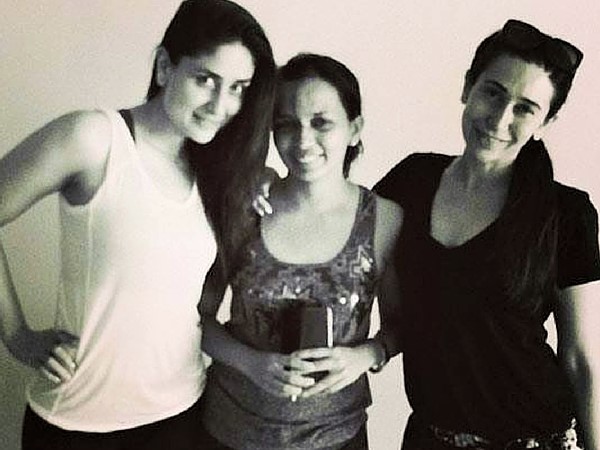 Rujuta Diwekar, the winner of the prestigious Nutrition Award from the Asian Institute of Gastroenterology (AIG) is a Mumbai based nutritionist and a celebrity who has influenced Kareena Kapoor and Anil Ambani regarding their fitness profile. Rujuta's advices and tips on healthy eating as well as staying fit have broken a chain of myth related to great health and reducing weight. Her first bestselling book was "Don't Lose Your Mind, Lose your Weight" in 2009 was an encouraging piece for many that managed to sell over more than 4,00,000 copies. She released her second book "Women and the Weight Loss Tamasha" in 2011 and her third book "Don't Lose Out, Work Out!" in 2014 that proved several healthy eating myths non-valid making easier for anyone with busy lifestyle or limited budget to follow the simple fitness mantras. Here are they:
Follow Pi rule for exercise and workout
Exercising once in every 3.14 days at least is enough for maintaining a great health. 7 days of exercising in 22 days in a row contributes to the overall state of being. Mild jogging, running or brisk walk is absolutely fine.
Never skip stretching and never start with intense workout
Stretching before exercising and workout is very important for better blood circulation. Stretching prepares your body for better workout and alsi prevents injuries such as muscle spasm twitch, sprains etc.
Running is best ever strength training
Another effective and simple fitness mantra by Rujuta Diwekar is running which is a super effective strength training for those who want to persist their fitness for a long time without going for gym and other cardio exercises. Running is in fact a best way to lose weight faster.
Do not skip meals, rather go for smaller ones
People usually skip their meals for losing weight which eventually make their body deficient of some essential nutrients. Rather eating nine smaller meals a day prevent over eating in every meal and severe hunger pangs. Eating apples, bananas, handful of nuts, muesli, milk, slices of brown bread are good options for incorporating in the smaller meals.
Staying hungry doesn't help you to lose weight rather disturbs your body's digestion and metabolism. Staying hungry leads to gastric issues, hence snacking on nuts, seeds, veggies, fruits can help you to fight your hunger in a real healthy way.
Recommended: Beauty and Fitness Mantra of Deepika Padukone
Eat fresh as much as possible
Stale foods, overheated or over boiled foods that has been cooked and heated for several times or left-over foods kept in refrigerator are considered as unhealthy foods without any nutrients. Hence, eating fresh made foods are best for maintaining best health.
A very essential fitness mantra suggested by Rujuta Diwekar is avoiding eatables such as munchies, sweets, biscuits, cakes and chocolates post dinner can lead to obesity. Many people tend to have some munchies after dinner for craving their late night hunger pangs which is the sole reason behind obesity or increased weight.
Know your system and drink water according to it
Forget about the rule of 8 litres water a day, because every human varies from each other regarding their body's various systems. It is important to know your system well and staying alert according to it. Check the colour of your urine to drink ample amount of water. If the colour is not yellow you're drinking enough water and if the colour gets more yellowish you need to drink more water.
Recommended: Alia Bhatt's Fitness & Diet Plan
People go for soy over paneer as a best source of protein without getting fats into tjeir system. But soy is not necessarily a healthy alternative to paneer. You can still have cottage cheese for getting protein as well as healthy fats.
Artificial sweetener is not always a healthy option.
If you're replacing the natural sugar with Sugar Free, it is not going to make a big difference unless your doctor advised you to do so. Diabetic patients are advised usually to use artificial sweeteners but healthy people still can consume sugar in a limited amount as specific amount of calories are also essential for human body.
Eat veggies in their natural form
No need to prepare a veggie juice out of your vegetables because that's not gonna add any extra nutrient value, rather it takes time and wastes your energy for preparing the drink. You can eat them raw after washing them properly or can make a healthy salad of it.
Going fat free is not a good idea
Rujuta Diwekar's fitness mantra says a very crucial point proving its verity. People think avoiding fats completely helps them to reduce weight significantly which is a complete myth broken by our acclaimed nutritionist Diwekar. There are some healthy fats such as Omega3 and Omega6 fatty acids that help in losing weight and staying healthy.
Carbohydrates are good for losing weight
It's a myth according to Diwekar that carbohydrates make you fat. Cutting out carbs completely from your diet is not a way to stay fit rather some unprocessed carbs such as wheat, rice, bajra, ragi, jowar help in weight loss programmes and also treat PCOS- Polycystic Ovary Syndrome in women.
Recommended: Sonam Kapoor's Fitness & Diet Mantra
Eat protein based local foods
Protein loaded foods such as quinoa which is not an Indian grown crop rather originally the Andean region crop such as Colombia, Chile, Peru which are not only expensive but also not easily available. Local protein foods can also help you to stay fit without spending lots of money.
Desi ghee is better than olive oil
Pure ghee has healthy monosaturated fats that are Omega 3 fatty acids great for health and even people who want to stay fit. Excess of both olive oil and desi ghee can lead to increased cholesterol in liver and blood respectively. But desi ghee has many medicinal health benefits which can help you to stay fit and warm if taken in a limited amount.
Usual masala tea is as good as green tea
Green tea is full of antioxidants and has got anti-inflammatory properties too. But the regular masala tea is also full of flavonoids a type of antioxidant that eventually helps in staying fit too. That's why Diwekar loves masala tea over green tea.
Yoga and meditation are key to healthy and fit life
Yoga especially surya namaskar pelvic flexing and opening exercises is Rujuta Diwekar's most recommended fitness mantra for a great for healthy lifestyle. Meditation is one of the best ways to stay calm and fit mentally and physically which is quite tough for many people in their busy schedules.