7 Easy Life Changing Habits You Must Know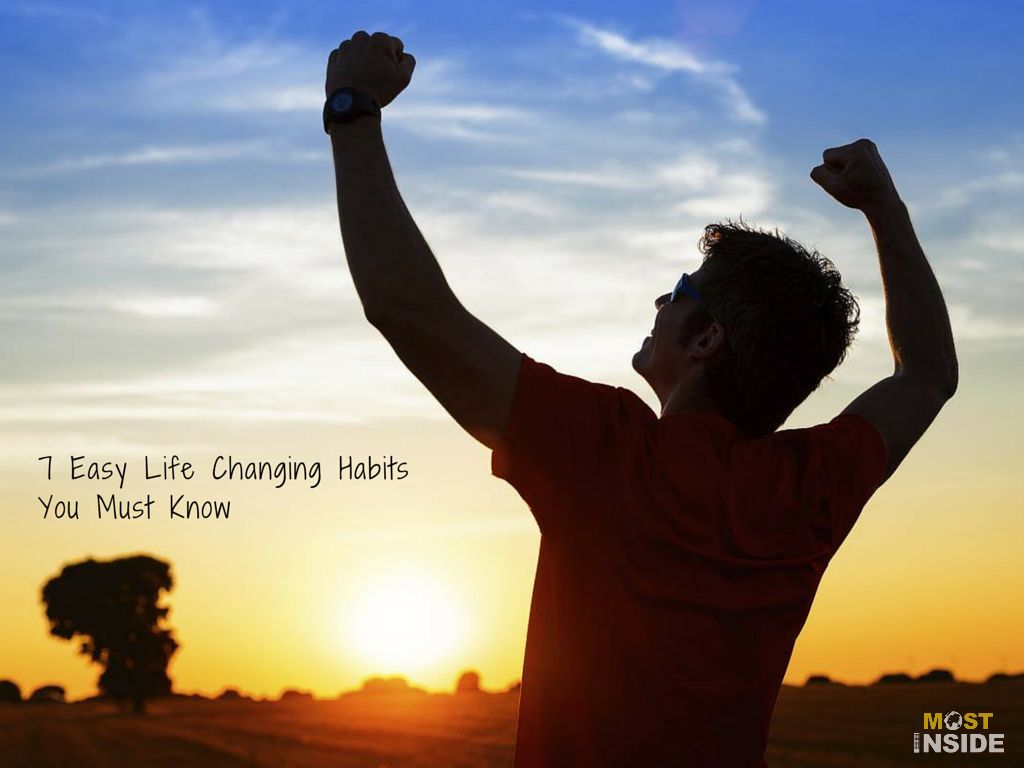 In comparison to our grandfather and great grandfathers, we are all living a complicated lifestyle filled with negativity, stress, tension, fatal diseases, poor health condition and indiscipline. There has been a 360 degree change in the habits of people which has led to a drastic change in the lifestyle. People have become more ambitious and selfish. There are hardly few people who are contented with their lives. More and more work has become the key towards financial independence due to which they are least bothered about the kind of lifestyle they live and habits they have.
There is a famous quote, which states, "Successful people are simply those with successful habits". Many a times, people think of changing their habits to keep their lives sorted. They are ready to be incorporate habits that can bring a great change in the way they live. They even start incorporating some or the other habits but they soon face failure. The reason for failure is inconsistency. You need to push yourself to get accustomed to the habit. You need to write down the habits, you are hell-bent on incorporating and challenge yourself to follow it for the next 30 days. Note down your progress and reward yourself for each level completion. In case you fail, reassess your progress sheet and analyse what went wrong. Give it a second try but don't accept failure.
To know some easy habits which can have a positive impact on your life, read below the 7 easy life changing habits you must know:
1. Sleep Early & Wake Up Early
To become a healthy, wealthy and wise person, it is said that one must sleep early and get up early. You must draft your own sleeping routine and must adhere to it always. If you sleep on time for 7 to 8 hours, then you will wake up fresh in the morning after taking adequate rest. Waking up early has significant impact on the attitude of a person. Morning time is the best time to spend time with yourself and family. In today's life, after working continuously for more than 8 hours, people hardly have the energy and a peace of mind to converse with family. Waking up early ensures that your mind is free from stress since the ambience is quiet and peaceful. The morning hours are best to plan about your future and try to write down your thoughts on a diary. You can also read books and newspapers along with planning your day's schedule. Even if you wake up early for a week, you will notice a major change in your attitude and in your lifestyle.
Read: 6 Benefits of Waking up early in the Morning
2. Exercise & Meditate
Exercising improves your body's blood circulation and metabolism rate, resulting in quick remedy for all stress and tensions. Exercise helps you in attaining great health, which results in boosting up your self confidence. You feel good about yourself. You also develop a positive outlook towards life. It not only keeps your physique fit, but also keeps your mind calm and you are able to think more creatively. Moreover, meditation connects your mind, body and soul in a manner that by practising it for one month or so, you will automatically feel that your anxiety levels have gone down and you have become much more humble in your approach. Also your time during the morning is best utilised if you invest time regularly in exercising and meditating.
Read: Why Should We Meditate Daily?
3. Follow A Routine
There is nothing as soul soothing as a clutter free lifestyle. Getting up late daily, hurrying up to the office, incomplete household chores, unclean work station, procrastinating work, working overtime, etc completely ruins a perfect day. You need to be organised in your life to enjoy a simple and sorted day. After waking up early in the morning you must prepare a to do list for the day and follow it blindly without messing up your tasks.
Once you start following same pattern everyday, you will automatically organise your home in a way that every little thing has its own place and it is put back on rack after use. In work place, you will have a clean work station with properly placed files, folders and stationeries. Even you will have a separate to-do list at work place and strictly adhering to your list will ensure that you don't procrastinate your work and finish all tasks within a stipulated time.
4. Have Positive Approach
You cannot sort out yourself unless and until you develop a positive mental attitude. If you are more of negative person, then you will constantly be de-motivated by every small failure and will finally quit following any of these essential habits. You need to think in a positive manner, which will keep inspiring you to strive harder and de-clutter your life. For example, if you decide to quit smoking from today and two days later, you think that it is impossible for you and you resume smoking, then  you are a negatively inclined person. If you really want to quit smoking, try drinking water whenever you feel like smoking and follow this for a month or so and motivate yourself saying that you are doing a great job by quitting it.
You need to have a positive self-talk with yourself. Debate with yourself and you will analyse all good and bad impacts of any decision. You can sail through any difficult phase by a positive self talk. Start reading motivational and inspirational books and avoid reading negative books, so that you mould your thought process in a positive direction. Avoid watching too much television and start conversing with yourself in the best possible positive manner.
Read:
5. Develop Patience
Best things have come to those who have waited for it patiently. Patience is the key to live your life with great poise and simplicity. If you get angry over small matters and lose your temper in front of anyone, then you are probably one of the most disrespected persons in the world. For developing patience, you need to be empathetic first. You need to keep yourself in the other person's position and must analyse the matter from other's perspective.
You should manage your anger by some proven techniques such as laughter therapy or by counting in descending order. Start your day by thinking about your happy moments in life and try to be as calm as possible while dealing with your family members and other people at workplace. By practising this, you will surely feel that you are becoming a better person day by day.
6. Eat Healthy
Busy lifestyle compels you to skip meals or depend on junk food. Try to live a healthy lifestyle. You are what you eat. Current sedentary lifestyle makes you feel lethargic and you are much more prone to lifestyle diseases such as diabetes, heart problems, asthma, cancer, etc. Your productivity is measured by your health condition. A healthy person is capable of contributing more to his work in comparison to a person with poor health condition.
So have a hearty breakfast rich in proteins, vitamins and carbohydrates, drink 8 to 10 glasses of water everyday, eat more of boiled food rather than fried food and keep your dinner light and healthy. Healthy eating helps you to keep yourself fit and confident. If you are able to incorporate this habit of healthy eating, then grasping rest of the habits will become a cake walk for you.
7. Know How To Effectively Multi-Task
Multi-tasking is an art. You need to be an expert to multi-task well. Many people try multi-tasking but fail miserably due to improper planning. When you prepare your to-do list, then you need to combine tasks, which can be done together. For example, if you are heading for purchasing grocery and there is a furniture shop too in that area and you want to buy a piece of furniture, then you must club both the tasks to avoid wastage of time. Moreover, while multi-tasking, you must also make sure that you combine two tasks, where one requires you to be physically active while the other requires you to be mentally active. In this way, you must start practising multi-tasking in the most efficient manner possible.
You may like this
Like us on Facebook for more updates