7 Habits To Realise Your Dreams Via Law Of Attraction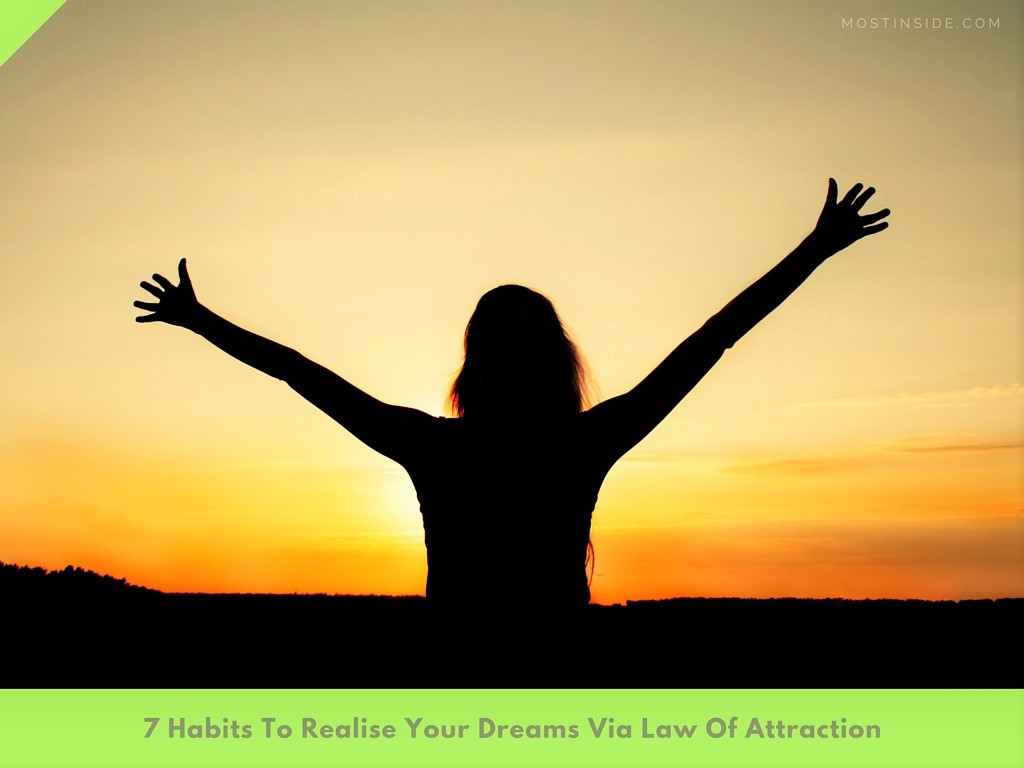 Our mind works tirelessly and thinks about thousands of things in a particular day. Of these thoughts, have you ever noticed that 80 percent comprises of negativity! We all are surrounded by positive and negative vibes but we mostly succumb to the negative ones because of our thought process. Our brain is functioned to scan and store negative memories as they are strong and influential.
If you find that your dreams are not realising then you need to analyse what kind of thought process you have. Then your first step should be to dedicate your energies in transforming your way of thinking towards positivity using the law of attraction. But law of attraction is not a magic that in one magical chant, you will become a person with positive attitude.
You need to shape your thoughts at your own pace and level of understanding. Our mind is filled with experiences that have hurt us, shattered our beliefs, created a feeling of fear in us and have blocked our path towards realising our goals. These experiences have created black-hole of negativity in our mind that just by thinking positive things, we can't vanish their effect overnight. To become an expert in realising dreams through proper implementation of the law of attraction, you must read these 7 habits to realise your dreams via law of attraction and replace the current pattern of thinking with positive thinking that influences you deeply:
Keep A Constant Check On What You Focus On
To fulfil your dreams you need to overcome numerous hurdles that can make you feel that attaining your dream is next to impossible. But you will have to keep a constant check on what you focus on. Do you find yourself focusing on the right direction or the wrong direction?
As soon as you confront from any obstacle, try to analyse your approach. If you find yourself blaming others or complaining or getting scared of the situation, then you are certainly on the wrong track. Problems do pop up in every endeavour of yours but you need to keep yourself strong and have trust in yourself. You need to find an instant solution to your problem by analysing the areas where the error can be rectified. You need to coax the positive energy within you and must divert your focus on seamlessly working for your dreams.
Practice Meditation
Negativity attracts your mind the most when the circumstances turn adverse. You need to calm down your mind that goes far, thinking deeply about negative things. You can attain peace for your mind with meditation. There are various meditation techniques that build in you the power of imagining good things while providing calmness to your mind. It gives a respite to your disturb mind and lets it temporarily disconnect from all the stress and tensions that is caused by the negative vibes around you.
Concentrate On Your Breathing Pattern
Start concentrating on your breathing pattern instead of concentrating on negative things that pose a hurdle in attaining your dreams. Instead of breathing from your chest, start breathing from your belly and focus deeply on your breathing. This kind of breathing activates the parasympathetic nervous system where you keep your mind and body at rest and digest the food you eat. Breathing in this manner provides a relaxation to your mind, body and soul and keeps your mind diverted for some time. Later when you again breath normally, you will find your mind calm and active for taking decisions in a logical manner and with a positive state of mind.
Prepare A Comprehensive Worry List
It is our brain's tendency to accept negative things first and keep on thinking about it. It is obvious that our mind is constantly busy in worrying about things that are negative in nature. Worried state of mind cannot give great results in any arena. To keep worries at bay, you must prepare your worry list for a week. The moment you start worrying, you must note down the worry. By noting them down, you preserve the energy you would have wasted in thinking about it. At the end of the week, when you have a look at the list, you will find that those worries were not worth a thought. You will start feeling that worrying never provides a solution.
Count Your Blessings By Writing Them Down
Positivity comes from within. You just need to unearth the positive side of yours by maintaining a gratitude journal. Start noting down about all things you are grateful to God for and maintain it regularly. Whenever you feel like your mind is moving in a negative direction, grab the journal and take a deep look at it. It will make you realise that you are very fortunate to live life this way and there is nothing that should actually demotivate you.
Write Down Your Dreams and Why You Want To Achieve Them
You may have numerous dreams but you can realise them by seriously recording them in a diary. In this way, you have a determined set of mind for achieving them and you also are in a better position to design your plan of action. Moreover, you must also note down why you want to attain them and what feeling to want to gain by fulfilling your dreams. If you have a staunch answer for this 'why', then you will automatically attract positive people and circumstances that will lead your path towards success.
Recommended: How Law of Attraction Help you to Achieve Goals of Your Life?
Imagine The Experience Of Attaining Your Dreams
Make it a routine to wake up with your dreams and sleep with your dreams. When you have a comprehensively written list of dreams then you must develop the ability to visualise them in a way that you get highly perked up to take action for their attainment. Before sleeping and after waking up, develop the habit of reading your listed dreams and imagine what the feeling would be when you actually realise them. By doing this, you drag yourself closer to your dreams.