How Technology Ruins Relationships?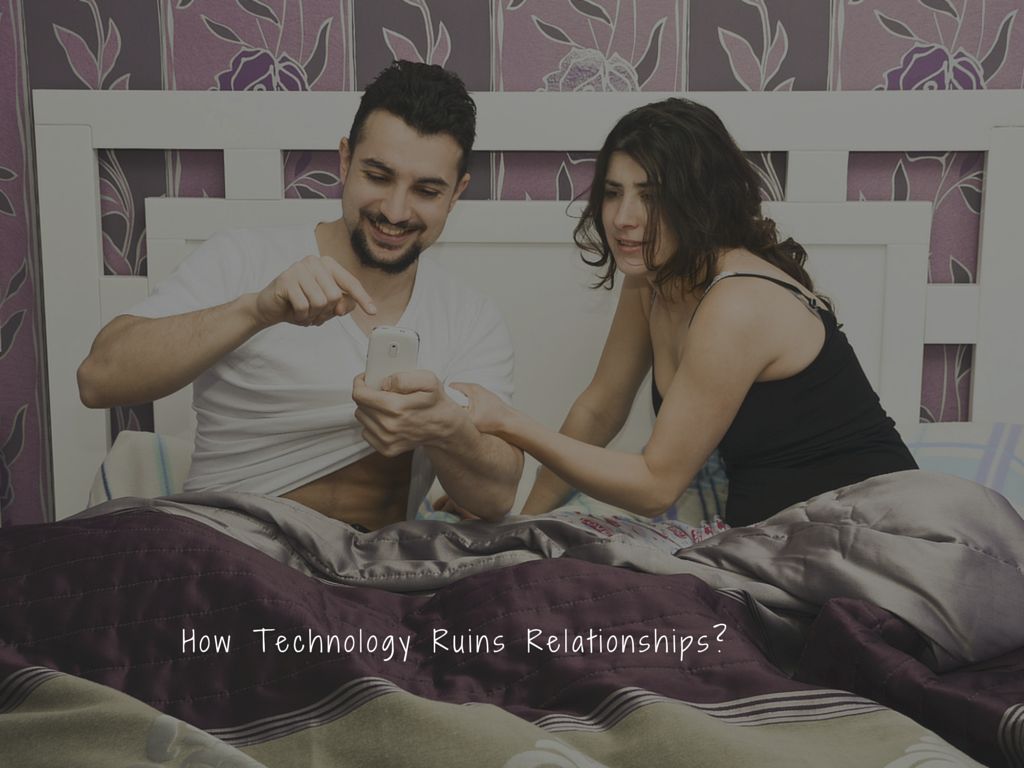 Technology which emerged to save time and efforts of mankind seems to be a necessary evil these days. Technology which is the most essential factor of our life has stopped being controlled by humans in fact technology now controls mankind. Coming to relationships be it marital, parental or friendship every relation in these days is getting affected and bruised by technology. No doubt using a smartphone, a tab, iPods, iPads and all makes you the most developed, updated and technological friendly person but have you ever thought about your personal relations? Not yet? Okay then let's have a close look at how technology ruins your relationships completely.
1. Lack of communication
Texting, Facebooking, Whatsapp, Instagram makes us so busy in chatting, sharing pictures, updating status and all that we forget that there's a world outside our smartphones too. There are some real people who needs to our attention. Being socially connected is important but not being sociable with your near ones is really a bad idea. Focusing more on your cellphones, laptops, tabs, televisions minimize the communication and interaction in your relationships.
2. Virtual and tangible worlds
People tend to spend more time in computer created the tangible worlds than the real world, hence their relationships get affected by technology and its aspects. Living under a same roof and busy in texting with your chat friends is like creating more and more space in your relationships.
3. Misunderstandings and misconceptions
Whenever we chat all we use are words and emoticons which never show our real intention and meaning of those typed words. Even if you mistakenly add an inappropriate emoticon it could be understood in a wrong way as the person never knows what's your actual mood and intention as a result misunderstandings and confusions emerge in relationships.
4. Being strangers
Living under the same roof and sparing no time for your loved ones as you stay busy staring and typing in your smart phones or browsing web on your laptops keep you real far away from your family and loved ones making you a proper stranger for each other.
5. Fights and brawls
Now after reading all the above reasons, fights and brawls are no surprising facts. Your Whatsapp last seen option shows you were online at late night 2 a.m. and then you are perfectly doomed. When technology over occupies your time, efforts, space and individuality all worse that could happen in any relationship is a big fat fight. Conflicts, fights, clashes are common if you are a technology addict.
Recommended: 12 Things Agreed By People Unaddicted To Smartphones
6. No time to spend together
When technology over occupies your time, then giving and spending some quality time with your spouse, partner, friends and family becomes very tough and rare. You never get ample time to spend and hangout together which creates distance and negative space in your relationship.
7. No intimacy
Intimacy which is the most important factor of having a healthy relationship feeds on communication and eye contact. When you are not mentally available for your spouse to interact or communicate be it verbal or expressional the only thing that happens is deprivation of intimacy in your relationship.
8. Evaporating feelings
Feelings come from physical intimacy like hugs, cuddles, kisses, holding hands, being cosy and these physical intimacy factors are not at all possible through phones and laptops. Technology ruins your feelings and intimacy. Do you think text messages can give you the exact feeling of hugging and kissing? No, never.
9. Evolution of distance
When you keep using Facebook, Whatsapp, Instagram, Twitter to ping people, tag people, update status, sharing pictures and videos, following people's tweet and liking their posts makes you so busy that even if you share a room or your home with your loved ones you forget that there are some people in your real world with whom you need to connect on first priority.
10. Creates distraction
You are on your special candlelit dinner and about to kiss your beloved or say something real important and your cellphone beeps as one of your social networking friend is video calling you. This creates distractions and annoyance in your relationship.
You may like this