Inspirational Things To Learn From 'Mountain Man' Dashrath Manjhi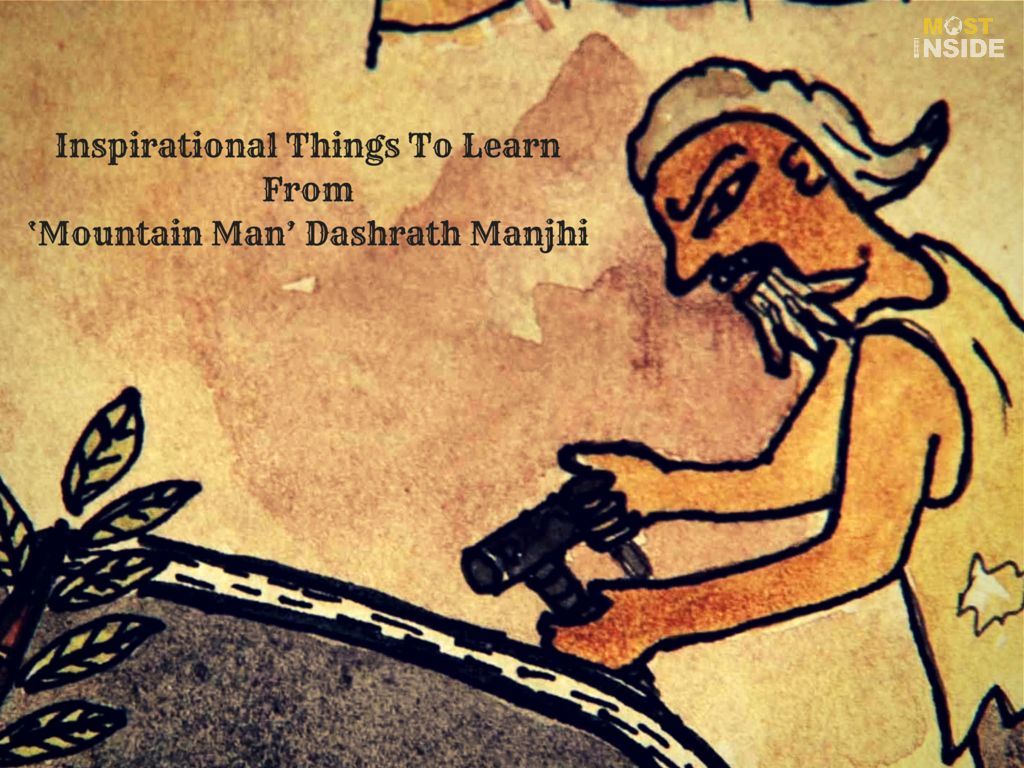 "IMPOSSIBLE" word seems to be losing its existence in this world. 'Nothing is impossible in this world'. 'Impossible word itself says "I'm Possible"'. These lines and quotes are heard by everyone, but made true and proved by very rare ones. An ordinary man's story will make you believe that most of the things worth doing in the world had been considered as impossible before they were done. A very inspiring real story of Dashrath Manjhi: the man who moved a mountain, so that his people could reach a doctor in time. His story will help you to stay determined to achieve your impossible dreams and goals. Let's take a close look at this impressive and encouraging story of a poor labour.
Mountain Man's Glorifying Story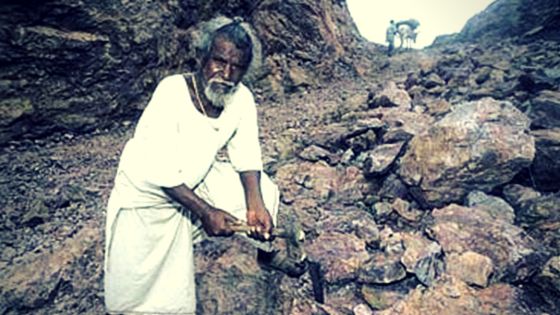 Dashrath Manjhi, a landless laborer was an outcast who hiked across an entire mountain every day, just to reach the farm where he worked on. It was an unsafe trog causing numerous accidents more often. The people of his village needed help, lives were at stake every day. He decided, if no one would help his people, he would help. Then, without any second thought, he stepped out and did a miracle with his bare hands.
In year 1960, landless laborers, the Musahars, lived in the middle of rocky terrain in the remote Atri block of Gaya, Bihar, in northern India. The community of Gehlour, were considered as the lowest of the low in a caste-ridden society who were never supplied with water, electricity, a school, a medical center. A 300-feet tall mountain was roaring between them and all the basic facilities that they needed were never able to reach them. Dashrath Manjhi was a labour who worked on the other side of the mountain and at noon, his wife Phaguni would bring his lunch and as they had no road, the mountain hiking took hours to reach the destination. Dashrath tilled the fields and farms for a landlord on the other side. Dashrath's wife, used to prepare the lunch for Dashrath and climbed up the treacherous mountain to take the lunch for her husband. She wrapped the rotis and liquid curry filled in a container wrapped the food into a square of cloth with a small pot of water. Dashrath used to wait for Phaguni to get his lunch but, one day she reached to him empty handed, injured. The harsh sun rays beat down Phaguni and she tripped on loose rock. She was badly injured. Her water pot was shattered. She slid down several feet, injuring her leg and mild cuts and bruises. Dashrath when came to know the reason of her being late, he felt bad and was filled with anger.
He determined himself and started cutting through the mountain with just a hammer, a chisel, and crowbars. He had to sell his goats to buy the tools. He climbed to the top of the mountain and started chipping away at the mountain. He said, "That mountain had shattered so many pots and claimed so many lives. I could not bear that it had hurt my wife. If it took all my life now, I would carve us a road through the mountain."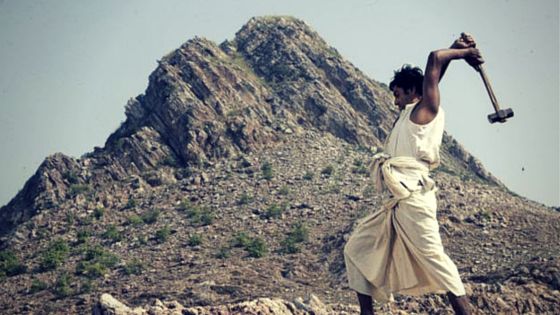 Dedication
He started early in the morning every day, chipped the mountain for a few hours and then worked on the fields, and was again back to work on the mountain. He would rarely sleep. When I started hammering the hill, people called me a lunatic but that steeled my resolve.The villagers who were calling him lunatic initially, gradually began to respect him, and started donating food to his family. He eventually left his wage job, and started spending his maximum time breaking the mountain.
After few months, his wife, Phaguni fell ill. The hospital was in Wazirganj, which was on the other side of the mountain, but the road leading to the destination was 75 kilometers long. Unable to go for the journey, she passed away. Her death not only provoked him more, but also  motivated him on.
Determination
He never got scared or never lose hope by measuring the whole task at once. In fact, he started keeping his tiny steps one by one, finishing small tasks and faced difficulties on its encountering and progressed while solving them one by one. It was not an easy task and possible task for any common ordinary man. He often got hurt by the rocks falling from the unyielding mountain. He rested and then was starting again. Simultaneously, he helped the village people carry their things over the mountain to make money to feed his children. After entire 10 years, as Manjhi chipped away the mountain, people saw a distinct cleft in the mountain and some came to help him too.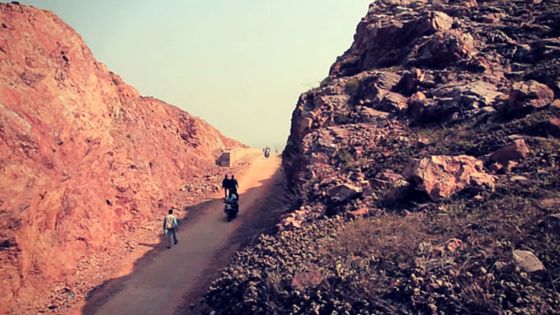 Patience
Due to his honest dedication and perseverance, Manjhi broke through that last thin wall of rock to walk into the other side of the mountain. After a huge patience of 22 years, Dashrath Das Manjhi, the common man, the landless laborer, had broken and moved the mountain engraving out a road 360 feet long, 30 feet wide. This road reduced the distance between the Atri and Wazirganj blocks of the Gaya district from 55 km to 15 km. The villagers were grateful and they began to call him 'Baba', the revered man.
Positive Attitude
But Dashrath was unstoppable. His work and dedication did not stop at just breaking the mountains. He started knocking at the Government's doors, asking for the road to be tarred and connected to the highway. He did the incredible thing to garner the government's attention, he walked all the way to New Delhi on railway line. He submitted a petition there, for his road to be tarred, for a hospital for his people, a school and water supply. In July 2006, Dashrath went to Bihar Chief Minister Nitish Kumar's 'Junta Durbar'. The minister being overwhelmed, got up and offered 'Baba' his chair, his minister's seat which was a rare honor for an ordinary man of lowest social status.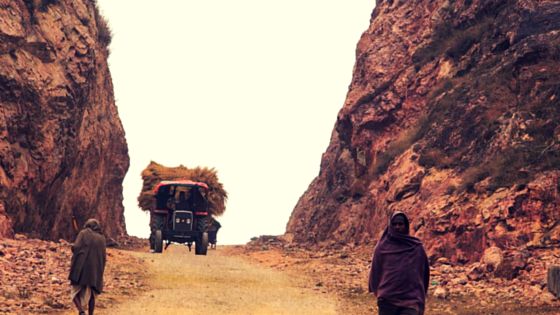 Benevolence
The government honoured his efforts with a plot of land but Manjhi promptly donated that piece of land back to government for a hospital. They also nominated him for the 'Padma Shree' award but the forest ministry officials stood against him, calling his work illegal. "I do not care for these awards, this fame, the money," he said. "All I want is a road, a school, and a hospital for our people. They toil so hard. It will help their women and children."
Futile Attempt
On August 17, 2007, Dashrath Manjhi, the man who had defeated a roaring mountain lost his battle with cancer. He was suffering from the gall bladder cancer. All his life he had helped for his people and for no personal gain. That's what we call humanity and charity.
"I started this work out of love for my wife, but continued it for my people. If I did not, no one would."
Manjhi's resolution, legacy, inspiration and benefaction, should not die with him. It should exist and live in among the millions of us who are facing challenges, fighting battles and observing problems in this world. It's very sad to know that despite all the golden and fearless efforts by Dashrath Manjhi, people in his village are still continuing to live under poverty with no proper access to a school, a hospital and water supply, the only hope and reason behind this great inspiring story, the only hope for which Manjhi strived hard for his entire life.
Movie on Dashrath Manjhi 
The story of Dashrath Manjhi has inspired Hindi film industry to make an Indian biopic based film "Manjhi – The Mountain Man" on life of Manjhi. Reportedly the movie  is directed by Ketan Mehta and starring Nawazuddin Siddique and Radhika Apte in the leading roles. The movie is set to be released on August 21 this year. Check out the theatrical trailer