8 Marriage Secrets You Should Never Share With Your Friends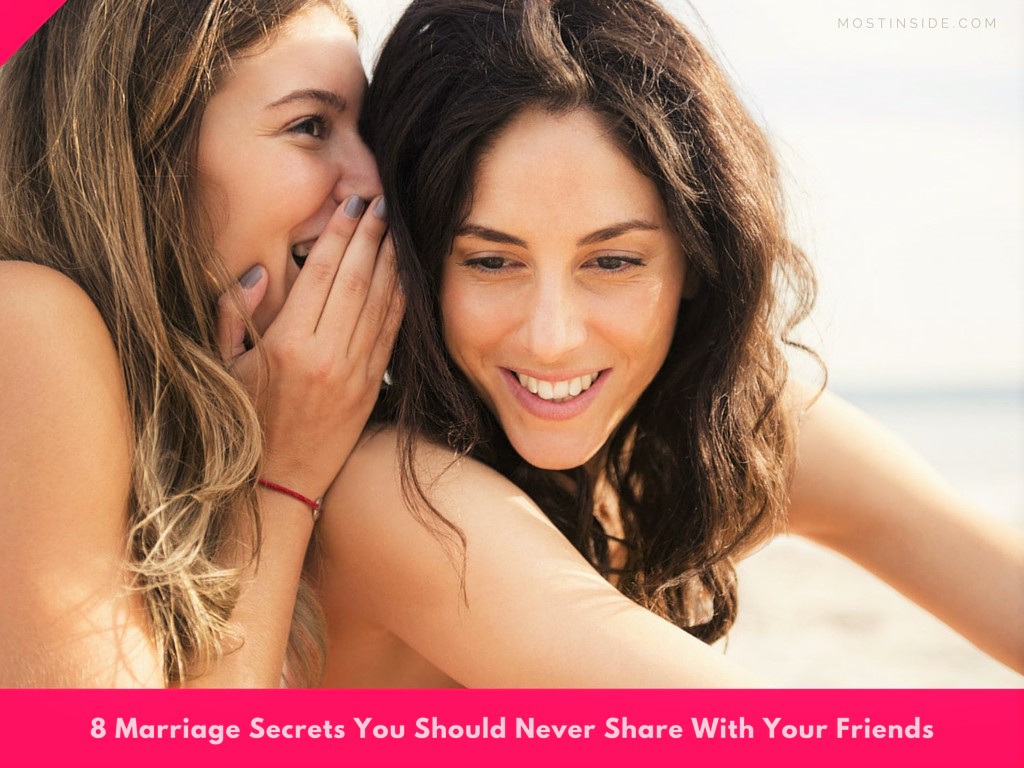 Marriage relationship counts on love, trust, understanding and respect. You might love your significant other deeply and intensely but there are some crucial things to keep in mind when you get tied in a knot. Talking about trust, understanding and respect all these components need two ends, one is yours and the other one is your counterpart's. Both of your equations needs a proper balance. No matter how much free and open you are with your friends there are some important artefacts that are wise to keep sealed about. People tend to share most of their life issues including their marriage life issues with their friends starting from their debts to their favourite sex positions. But, for a healthy and happy marriage life, there are some marriage secrets that you should never share with your friends, trust me never! Read on..
1. The ruler of your family
Every family has got a head be it wife or husband. Their importance and significance in the family is only because of mutual understanding and decision. Well, this secret is very much known to you and your partner, so one else gonna understand it's deep logic and reason, so better keep mum about this thing that who rules your family as your friends might get it in a wrong way and could infuse a seed of hatredness, jealousy and insecurity.
2. Sex life details
Well, sex is something that is enjoyed between two partners after marriage. And your dirty sex secrets are only safe and good with you and spouse. Sharing your dirty secrets with your friends could not be real safe as a loose lip friend of yours could expose it to someone you would never ever want to know your dirty bedroom secrets. So, try to keep this secrets deep inside your heart. Mind it, this marriage secret is the one you should never share with your friends, not even by mistake.
3. Family plannings
Bearing a child, family planning is a life changing decision and is a new phase of life. It is your personal matter absolutely and you don't need any third person's advice not even your best friend's advice. It's your and your spouse's decision, so try to keep it within you both.
4. Brawls and fights
Your fights, arguments, disturbances, conflicts are good if you keep these within the walls of your home. You could sit and talk about it in a cool mind to figure out a solution but never ever think about consulting a friend as your friends could lead you in a wrong direction which could end your relationship very badly. I think we all are matured enough to solve our own problems, so why sharing all these with others.
Also read: 10 Marriage Secrets You Were Not Aware Of
5. Bad side of your spouse
Whether your spouse snores, or loves to dig nose, or leaves the toilet sit cover up, or has got a hairy body are not the topics of your friends hangout. Show some respect to your spouse and try to maintain that very respect in your friends' eyes, so that when you introduce your spouse you will feel proud rather being embarrased. So, negative points about your spouse is the marriage secret you should never share with your friends.
6. Chemistry with your in-laws
That's very common when people talk about little rough patches with their in-laws. It is totally natural. But remember they are your spouse's parents so you need to love and respect them. They are your elders and are not the subject of fun and gossips. So try not to talk and share family secrets with your friends.
Recommended: 10 Marriage Secrets That Every Couple Must Know
7. Income of your spouse
Well, this is absolutely not a topic to discuss and share with your friends. Whatever your spouse earns is his/her financial matter and is highly classified. Just think, would you love to hear that your spouse was sharing about your income details with his/her friends? Exactly!!
8. Finances and expenditures
Conversations about your finance, expenditures, savings are no good to anyone's else ears. Exposing your debts, finances, spendings to your pals are totally none of their business. So, it's better to keep these accounts sealed. Last but the most essential marriage secret you should never share with your friends.