Is Marrying your Best Friend a Good or Bad Idea?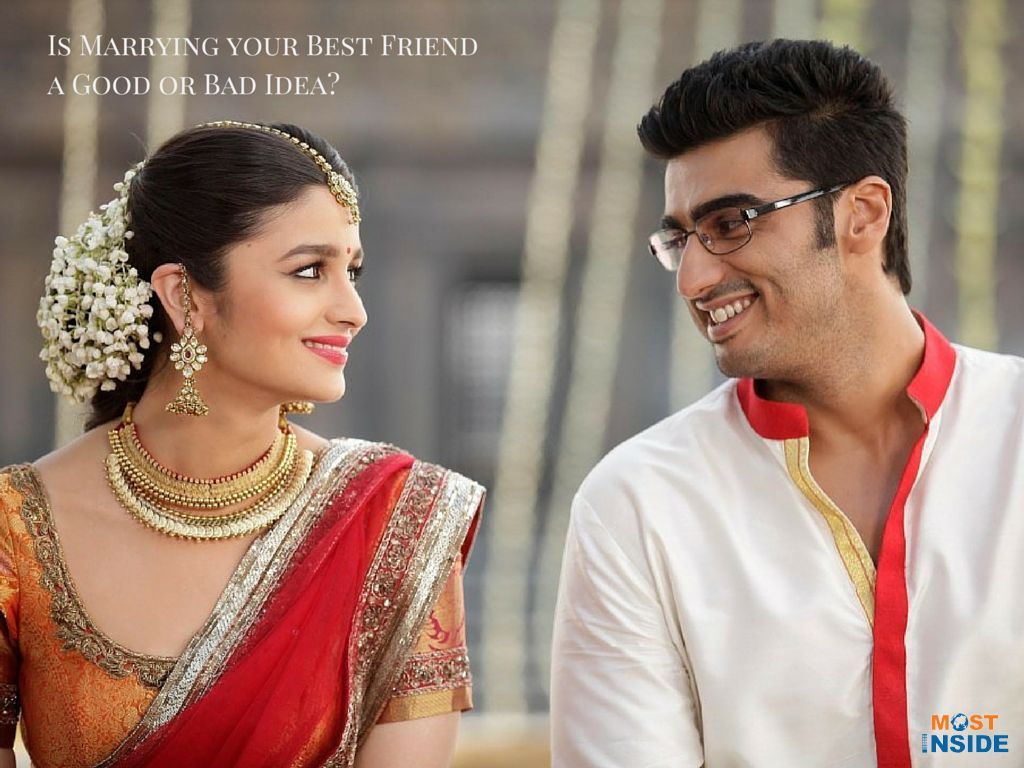 Marriage, this summer is everywhere, like starters and cucumber salads. Well, if you planning to get married to some guy, you know from last 4 to 5 months, then you should probably wait and think again. It's not yet late, instead of crying and repenting on your wedding day sitting beside your newly wedded husband. Just, imagine your best friend, of course not talking about girl best friend, imagine that crazy guy who teases you, pulls your hair and run for fun, takes care of you, protects you, will become your husband then what will be the scenario? Of course, definitely it will bring more fun to your life with lifetime validity. Isn't it?
Now, imagine your life with a stranger, whom you know just from last few months, specifically and only about his hobbies, his qualification, his family background, and his working status. Is that enough to lead a marriage life with a stranger? Living with that stranger, could never make you that happy go lucky, you were used to be with your best friend. Oh, common guys, admit it to yourself that getting married with a person whom you know perfectly inside and out is an amazing idea to live an adventurous and happier life. Let's check out some benefits of marrying a best friend.
After a few years of marriage the romantic love or lust factor gets fade away. All that what plays more between two people is partnership. The people who marry their best friend garner the highest levels of happiness, in fact, according to study, the marriage relation lasts twice than the arranged marriages.
Marrying your best friend can make your life a rollercoaster ride full of excitement and enjoyment. Relationships last long when the relation has got some fun factors. So, better marry the person, with whom you can some real fun.
Your stupid and crazy bestie would be standing beside you, no matter what the situation is. But, a stranger never does that, instead making the situation much worse for you.
Getting married to your best friend will create unconditional love. No matter what crazy fights happen, what stupid things you do or say, or whatever the random thoughts you have, your best friend will always get what going on in our mind. Best friends never judge you and never let you go. They just find more ways to lift you up. What else, you need in a perfect partner.
You will be accepted, no matter how you weird you look! It's not possible to be in your ultra super-amazing beautiful look, but your best friend will love you even when you look like crap or you don't wear makeup. Amazing isn't it?
You can laugh at each other, madly. Laughing at each other strengthens your bond. Be it a good news or bad news, your best friend is the first person you turn to.
Best friends always make you feel at home. No matter how much stress going on in your life, you will always be at peace when you come to your best friend's company and this is the most important thing in marriage.
Life is not only about fun, it has some ups and downs too. Similarly, marriage is not always a bed of roses but it definitely becomes easier when you have someone to support you to tackle your lows. Best friends are the one who know you more than you know yourself.
The significant benefits come in utmost-stress environments, and the best friends who are married can manage midlife stress better than those who aren't because they have already shared a load and their friendship.
Whenever something happens, good or bad that we can't share with our family members, can only be shared with your best friend.
Must Read: Most Common Lies in Every Relationship
Being in love makes you close to your partner but being in friendship can open you more to your partner. Best friends will be the best spouses. Well, some people may not agree, as we all have our own preferences. But it's better to get married to a known person rather to a stranger. You never know, the camaraderie between you and your best friend could make your life most beautiful and full of fun.