Personal Development Objectives For A Happy Life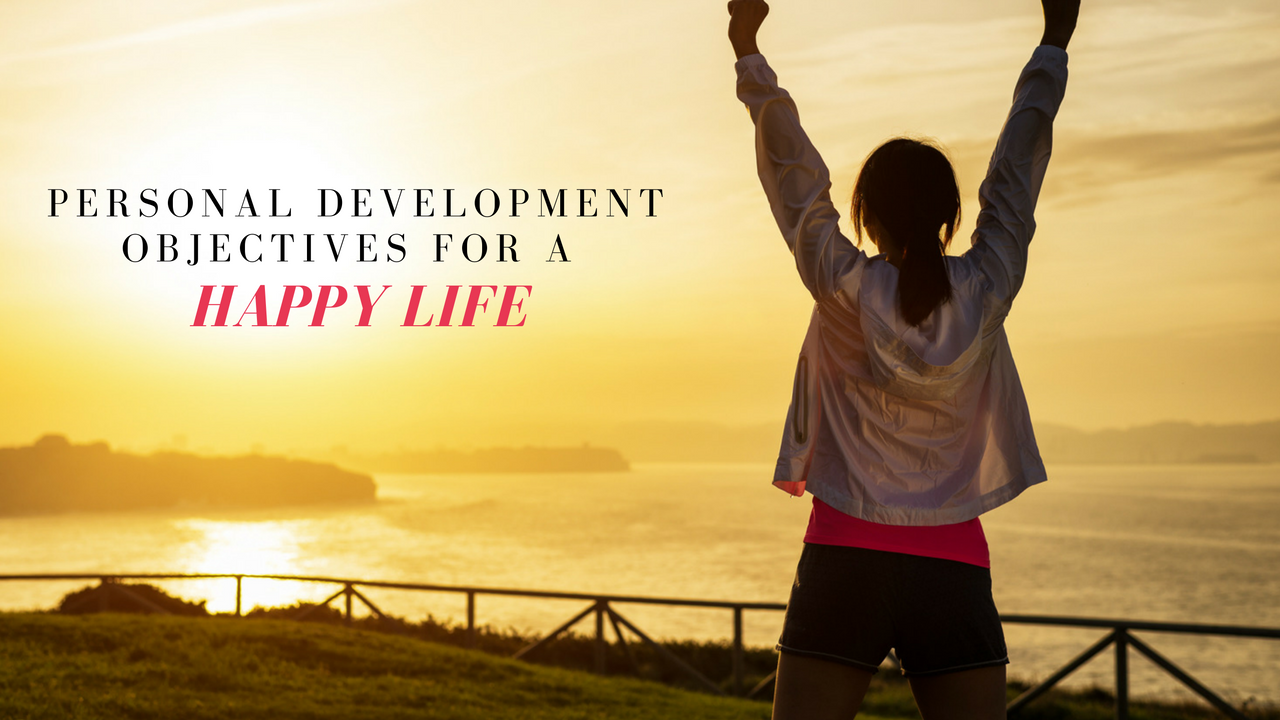 We cannot ever discuss about personal development without mentioning goals and objectives. And on the other hand, happiness comes from your insight. And while you try to pursue happiness you'll apprehend that you'll be able to gain a lot more if you attune yourself to life situations. Personal development do plays a big role in the overall happiness. We all want to upgrade the quality of our lives to become better people, achieve more goals, and overall to be better rounded individuals. That's the reason why we set our respective personal development goals. And for a happy life here are the personal development objectives that'll help you transform into a happier individual
1. Be confident
Your self-confidence is basically what you think about yourself. How proficient you think you are in dealing with your life's challenges and how much worthy you are to feel happiness and success. Your confidence counts your success. Hence, one of your self-development goals should be improving your self-confidence.
2. Define your priorities
No matter how much proficient you are always stay synchronized with your priorities. The tasks that you want to focus and work on at the top is completely your wise choice. Your balanced priorities will help you to achieve success and happiness smartly.
3. Define your ethics
Your work ethics are the most vital factors of personal development objectives. You have to be dedicated towards your work and reliable enough to hold responsibilities. Your honest work ethics will help you to develop your inner skills and talents with strong determination.
4. Develop your strengths and expertise
For self-development you have to work on your inner strengths and expertise. Studies have found that it's better to develop your strengths rather than fixing your weaknesses. Professional development is essential not only because it leads you to promotions, but because you need to retain challenge and stimulate your brain in the long run.
5. Improve your emotional intelligence
According to the researchers your IQ only predicts a tiny amount of your success. And to be specific, the people who have achieved success in their workplace are those with high emotional intelligence, those who are the expert at listening, understanding, relating, and empathizing with other people.
6. Manage stress effectively
Stress can be best managed by preventing it and this process includes understanding what stresses you out mostly and avoiding those situations completely. If you find it hard to avoid the stress, try taking deep mindful breaths. Try to focus more on the present moment and forget about the future as your present frames your future.
7. Manage time and stop multitasking
Multitasking simply feeds on your productivity and efficiency and prevention of multitasking is one of the crucial personal development objectives. When you try to manage several tasks at a time, your brain needs some time to get sync with what you caught up and left off. Prevention is by focusing on one task at one time. Do not move on to next until the task is complete or you need a break.
8. Stop procrastination
Procrastination seems to be quite smart and an effective but procrastinating simply kills your time and opportunities. Procrastination is a habit that can be easily prevented. Try to make better use of the time that you get by overcoming procrastination.
9. Be a good listener
Being a good listener takes a lot of skill and practice. Active listening means listening carefully to the other person, and then restating your mind what you heard and confirming that you understand them precisely. To increase your effectiveness try to identify the emotion of lines and then respond to it appropriately. When you improve yourself as a good listener you improve the quality of your work and personal relationships.
10. Improve communication
Improve your conduct of communication to make yourself crystal clear to others which promotes the sense of trust. Make your communication effective and short to save time and hit the point that you try to make.
11. Work as a team
To be happy with your friends, family and colleagues you need to work as a team to gain peace. You need to be vulnerable to others' opinions. If their opinions are not agreeable and acceptable then convey it to them politely.
12. Improve your body language
Your body language do work susceptibly which is another important personal development objective. People can guess your state of mind by your body language. Try to work on it to stay happy. Body language is something like nonverbal communication which involves your gestures and movements.
13. Be more proactive
You have to be full of enthusiasm to create your own destiny. To shape your fate you need to be proactive to achieve success, goals and objectives. Proactive people take full responsibility of results that they get.
14. Gain conflict resolution talent
Conflicts are unavoidable, hence are a part of life. Well, people can't be expected to agree on everything. The crucial thing is to find a solution or a way to avoid or manage conflicts smartly and skillfully.  If you have the ability to resolve conflicts and disagreements amicably you will be more happier and successful.
15. Let go your past
Each one of us has got some past, especially some bad memories which haunts us and makes us go weak for the lifetime. But to be happy you need to be in the present and forget about the past to move forward to achieve success and goals.
16. Rise early
Be an early riser. To get a happy life and for self-development fitness and good health is the key factor. Workout, eat healthy breakfast, meditate and soak up in sunrise which will cheer you up for the whole day.
17. Be adaptable
You have to be flexible and resilient to overcome adversity. There will be several critical life situations when you might face adversities, but flexibility will help you to bounce back stronger and smarter which is one of the strongest personal development objectives.
18. Love to read
Knowledge is power and the best way to gain knowledge is by reading. Mindful reading increases your inner knowledge and tenacity. Researchers assert that gaining new knowledge satisfies your need for competence, which makes you happier.
19. Make wise decisions
In order to get a happy life you have to make wide decisions and choices. You can't avoid making choices hence making better decisions is mandatory and important which will determine your future and the quality of your life. Hence, wise decision making is the shortcut to happiness.
20. Learn to forgive others
When you try to get over your past then you have to forgive your offenders too. Forgiving others increases your satisfying quotient which helps to gain peace and patience which helps you in the long run to achieve goals.
Also read: 3 Simple Ways To Lead A Happy Life