5 Solid Reasons To Watch Aamir Khan's "Dangal"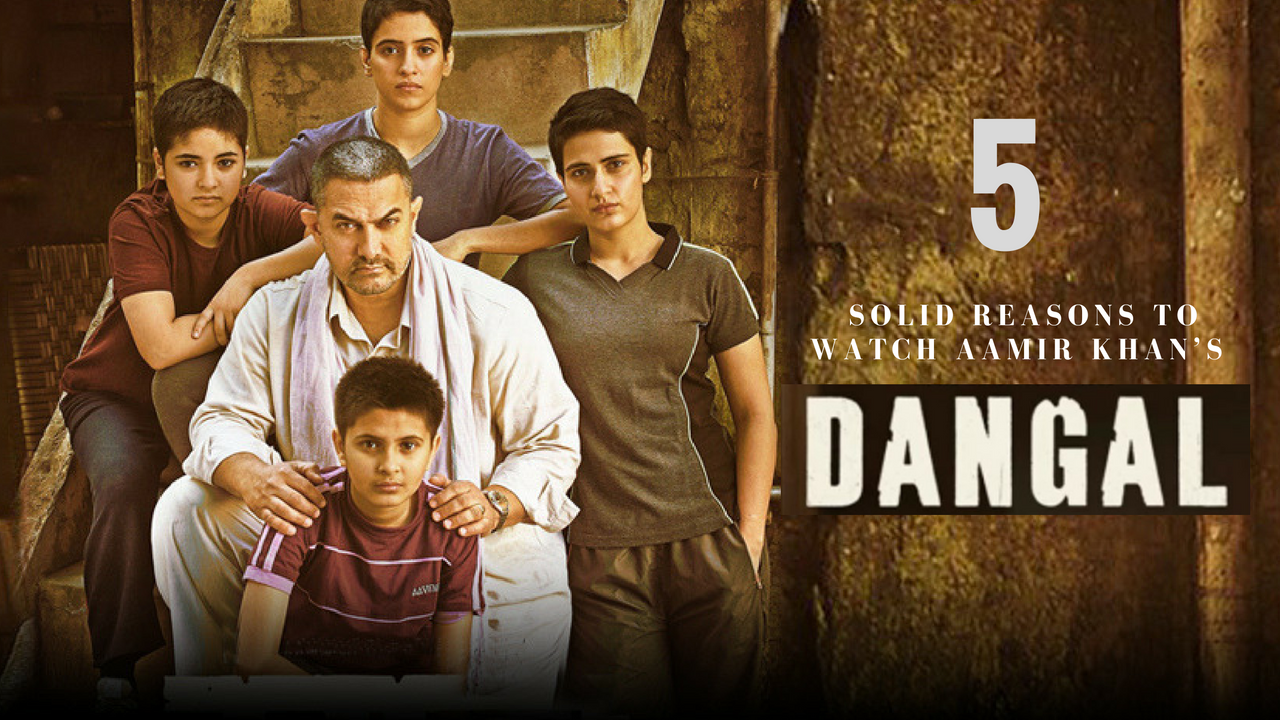 Directed by Nitesh Tiwari who has directed hit films like "Bhootnath Returns" and "Chillar Party" is now trying his direction skills with a biopic of Mahavir Singh Phogat who is a former wrestling champion from Haryana. The best part about this flick is the one and only Aamir Khan himself who is known as a perfectionist of Bollywood when it comes to giving best films to the box office. After two years of super blockbuster film "PK" 2014 where Aamir unleashed all the limits of his perfectionism, he is back with a bang again along with his 2016's super powerful flick "Dangal" which is a story about a former wrestler champion Mahavir Singh Phogat and his efforts for training his own daughters Geeta and Babita who are India's most well known and celebrated female wrestlers who have also garnered medals in Commonwealth Games. The flick is starring Aamir Khan, Sakshi Tanwar, Fatima Sana Shaikh and Sanya Malhotra. The film has already hit the theatres on December 23, 2016. And if you haven't planned to watch this film I have brought you 5 solid reasons to book tickets and watch "Dangal".
1. Aamir's honest dedication

Mr. Perfectionist (Aamir Khan) is a keen actor when it comes to exhibit the authenticity of his character in any of his film. In this film Dangal, Aamir has to exhibit one character in two different physiques according to the demand of script in which he plays both young and old Mahavir Singh's character which again has a twist. The young Mahavir Singh in an athletic, muscular and broad shouldered physique whereas the old Mahavir Singh who trains his own daughters for wrestling is a fat, chubby, over weight and pot bellied personality of 97 kgs. To play such an overweight personality, Aamir ate whatever he wanted and put on weight to reach 97 kgs almost 100 kgs and then he prepared himself to lose weight to get back to a fit and muscular physique with six packs to play the young Mahavir wrestler's role. This is what we call honest dedication by an honest actor.
2. "Dangal" a tight competition to "Sultan"
"Sultan" 2016 starrer Salman Khan and Anushka Sharma which was a blockbuster film was about a Haryanvi wrestler Sultan Ali Khan's athletic career success has now a strong competitor film in the box office that is Aamir Khan's "Dangal". Salman Khan fans who have made the film a great success is now going to watch a tight competition from "Dangal" which might break the records of "Sultan" in the box office is kind of a strong reason to watch "Dangal".
3. Sakshi Tanwar as wife of Aamir in the flick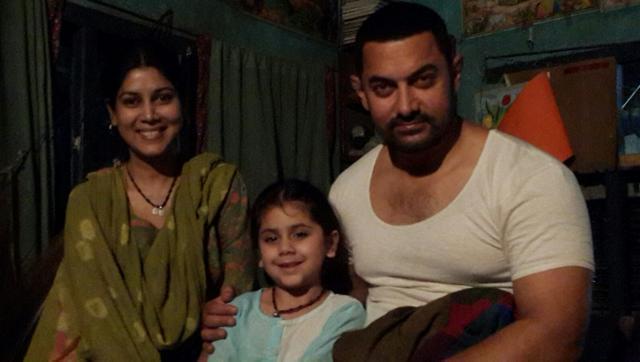 Television actress Sakshi Tanwar who was last seen in a daily soap on Sony Entertainment Television named as "Bade Ache Lagte Hain" is now going to be seen on big screen opposite Aamir Khan's as his wife. Now that's quite interesting and exciting to watch Sakshi as Aamir's onscreen wife because according to the grapevine Sakshi got the role after beating 70 other actress in the audition for this role in "Dangal".
4. Excellent and exceptional script
Aamir Khan fans always wait eagerly for his master flicks because this perfect actor always come up with an excellent and exceptional script to keep his fans and viewers engaged. "Dangal" the biopic of Mahavir Singh Phogat wrestler is not only about his athletic career but also about his inspirational journey as a father and a trainer of his own daughters who are India's well known female wrestlers.
5. New comers especially Geeta and Babita

"Dangal" is starring three new comers Fatima Sana Shaikh as Geeta, Sanya Malhotra as Babita and Aparshakti Khurrana younger brother of Ayushman Khurrana who will be seen in a Haryanvi character. And a surprising thing is Fatima Sana Shaikh is none other than the little girl character played in "Chachi 420" 1997 comedy flick starrer Kamal Hasan and Tabu. Baby sana actually played the only daughter of Kamal Hasan and Tabu in the film named as Bharti. Now it's really exciting to watch the grown up Sana in "Dangal" that even as a wrestler. Isn't this an amazing reason to watch "Dangal".