Scared To Get Married? In Fact, The Whole Current Generation Is. Here's Why?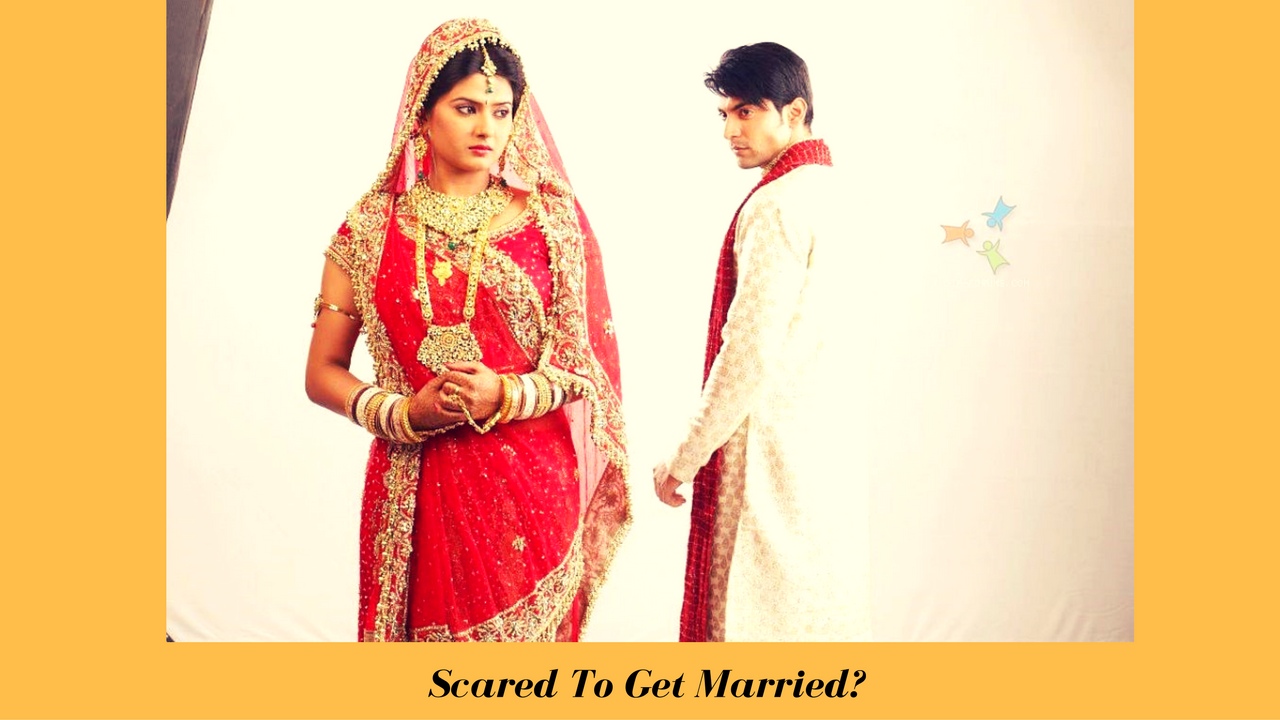 Until a few decades back, arrange marriages were quite common and love marriages were seen with a raised eyebrow. Marriages were believed to be a sacred relationship where the families found suitable groom or bride for their children and they used to accept the courtship and embark on a new journey together. But as we are modernising, we are adopting more and more of the western attitude towards love, marriage and life.
Most of the current generation who is more career oriented, materialistic and doesn't believe in remaining in a closet of relationships, have lost faith in the sanctity of this holy institution of marriage. People are more opting for live-in relationships and find it adventurous to have relationships with multiple partners. Apart from having all the scepticism that surrounds marriage such as it transforms your whole life and burdens you with unwelcomed responsibilities, here are some of the pertinent reasons why the current generation is scared to get married:
They Are More Career Oriented
The current generation is largely accepting the notion that marriage cuts of their wings and thus, their dreams to reach the sky, tastes the dust. Life seems so short during the twenties when you have to strive to be ahead in the rat race and plan for your thirties. Amidst so many financial commitments and unfulfilled dreams, the very thought of marriage irks you. This is because, by now marriage would only sound like happily tying yourself to a relationship that would stagger your growth on the professional front. You will have to spare time and effort to be a part of someone's life and allow someone to be an integral part of your life and while you are still struggling to take your own responsibility, additional responsibility seems completely unwarranted for.
They Dislike The Idea Of Living Life With Compromises
Being a member of the current generation, you don't want to settle on a life that is filled with compromises. While the conventional form of marriage requires you to adapt yourself to the new changes in your life, you may feel your freedom has been compromised. Going out with friends, late night partying and having casual flings that filled your life with fun and adventure will get vanished. You may find it foolish to invest your time, money and efforts in keeping a person happy at the cost of your bachelorhood freedom.
They Love Enjoying Their Space
The latest generation cherish the opinion that we come and go alone and everything that happens in life is just an illusion. Therefore, you may perceive that instead of sacrificing yourself to a long lasting relationship that ties you emotionally, you must focus on self-discovery and keep on enjoying life's experiences with the individualistic approach. Human beings are gradually getting obsessed with themselves to the extent that family and home no longer remains an escape for them from the monotonous world. They consider family and home as a distraction from discovering themselves.
Recommended: 5 Things About Marriage That Indian Women Are Scared Of
They Want Sex But Aren't Ready To Commit
With so many inhibitions that the present circumstances have brought in, the word commitment seems off limits for the current generation. For them, relationships should not be binding and in fact, must be liberating so that it doesn't hinder their potential to utilise their freedom and peace of mind. Since marriage requires loyalty and devotion on part of both the partners, you may feel it is the final destination of life and what comes next is a series of yet another stack of responsibilities in the form of baby, its upbringing, education, etc. The thought of intimacy may entice you but intimacy plus commitment feels like a perfect life spoiler.
Women Don't Aim To Become The Perfect Homemaker
Parents expect their daughter-in-laws to be demure and docile and they may assume that her duties are to abide by the rules of the groom's house, make babies, look after the whole family and must sacrifice her own desires. However, with the passage of time, women have come to occupy a competitive role in the professional sphere and daughter-in-laws prefer to multi-task between home and office. They are breaking the stereotypes and are striving towards attaining financial freedom and in the pursuit of fulfilling their ambitions, they have given marriage least priority.
The Happily Ever After Is A Popular Myth For Them
The word divorce was considered a taboo and couples earlier made numerous compromises to keep their marriage from falling apart, either for the sake of their families or for their children. But with the alarming increase in the rate of divorces around us, the current generation is of the opinion that when two individuals who have different lifestyles and perspectives marry, disputes are inevitable, which gradually kills the romance and finally the couple has to head for a divorce. Therefore, when couples have to part ways at some or the other point in their lives, then marriage certainly doesn't create a 'happily ever after' scenario.
While the current generation engulfed in a whirlpool of responsibilities and ambitions thinks this way, there is another side to the story as well. When you are deeply in love with a person, isn't it true that a life partner who is fully committed to you gives you a respite from the world at the end of the day? Doesn't it feel great when your partner loves you and cares for you even when you are not in your best mood or behaviour? Isn't the house made from bricks and cement truly a home when there is someone eagerly waiting for you to create memories of a lifetime?
While marriage seems to be scary when you have lined up plans for your life, but it certainly feels great to spend time with your partner after running the whole day for the sake of your future plans. If your parents say that at any point of life, your loneliness will haunt you, then they are absolutely right. If you consider marriage as an obstacle in your blooming career, you are wrong. Develop a great understanding with your partner and then you will be amazed to see how your ambitions become theirs. Instead of finding yourself in various life experiences, see how beautifully marriage brings stability in your life and you will certainly enjoy the togetherness. Find yourself through your partner's eyes and if you keep love, trust, care and bit of compromises in right places in your relationship, your married life will automatically achieve success.
Recommended: 7 Effectual Secrets to a Successful Marriage