Sonam Kapoor's Hot Intense Vogue Agent Provocateur Photoshoot
Our darling fashionista of Bollywood never lags behind when it comes to flaunting hot intense and magical looks. Sonam who present herself effortlessly and elegantly always is the all time favourite beauty queen of almost all youngsters. Sonam Kapoor who is the style icon and fashion inspiring actress loves to showcase her versatility in various classic and quirky outfits.
The disney girl depicted a funny yet smart doctor in her one of her last released film 'Neerja' won millions of hearts and added a big chunk of fans and admirers in her list. Sonam's natural beauty and joyful nature attracts  millions of young hearts. The Neerja actress sizzled the Vogue cover for September issue last year as an Agent Provocateur with her real intense and bold looks.
Sonam showcased in a Louis Vuitton outfit with a brown leather top and a slim black skirt with black boots for the Vogue cover in which she gave a pure metallic and magical look. Several outfits donned by Sonam for this photoshoot in a black layered dress having feathers all over the body by Fendi and Vintage gold plated faux pearl earrings by  Susan Caplan, a printed top by Gucci, blanket coat by Burberry Prorsum and black pencil boots by Cchristian Louboutin, a short covered neck dress with printed guns by Saint Laurent, a pair of tights and a black jacket by  Saint Laurent, high boots by Tom Ford and a bag by Hermés.
Sonam who acted like an undercover agent was giving her hot intense sexy looks in a a pure black slit shoulder blouse by Bibhu Mohapatra, a leather skirt by Acne and a Valliyan necklace by Nitya, in another outfit with a double cut bra by Agent Provocateur, skirt by Shivan & Narresh, coat by Bottega & Veneta and Gianvito Rossi white sandals by  Mary Katrantzou. Sonam flaunted her stylish yet sexy shadow in a printed zipped cardigan and a leather brown skirt with a belt by Louis Vuitton. A classic outfit by Versace, black stilettos by Christian Louboutin, gloves by  Jane Carr, a bracelet by Viange and a bag by Dior complimented Sonam's look so effortlessly.
Vogue Agent Provocateur Sonam Kapoor Photoshoot Making Video
Vogue Agent Provocateur Sonam Kapoor Photoshoot Pictures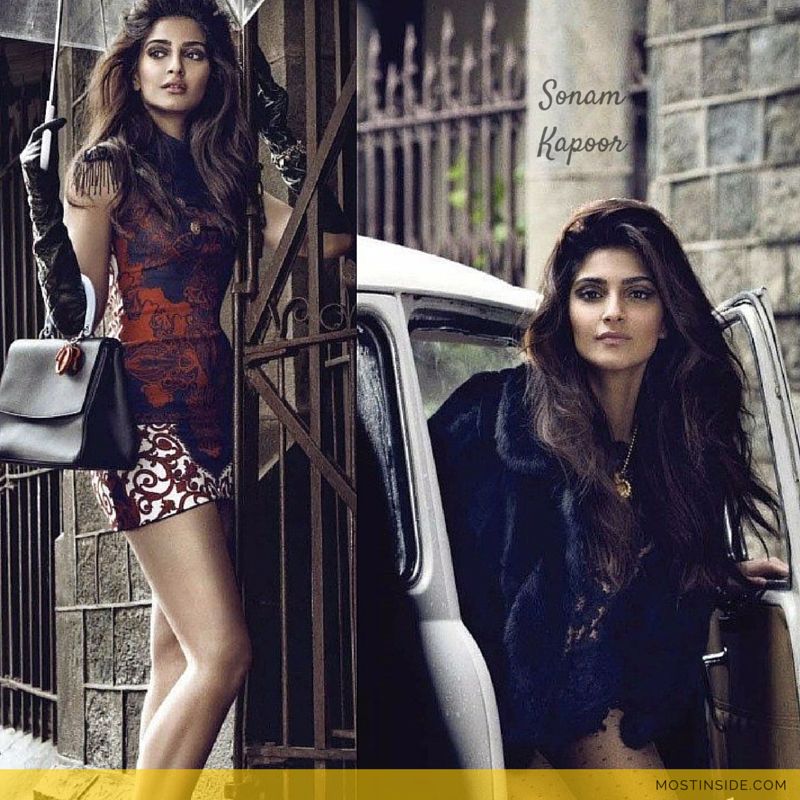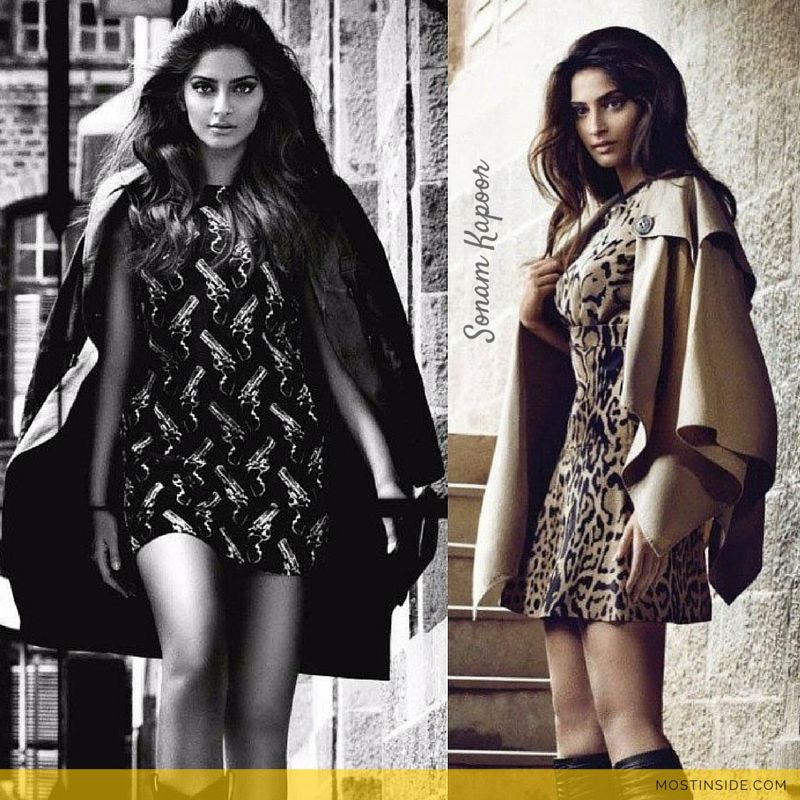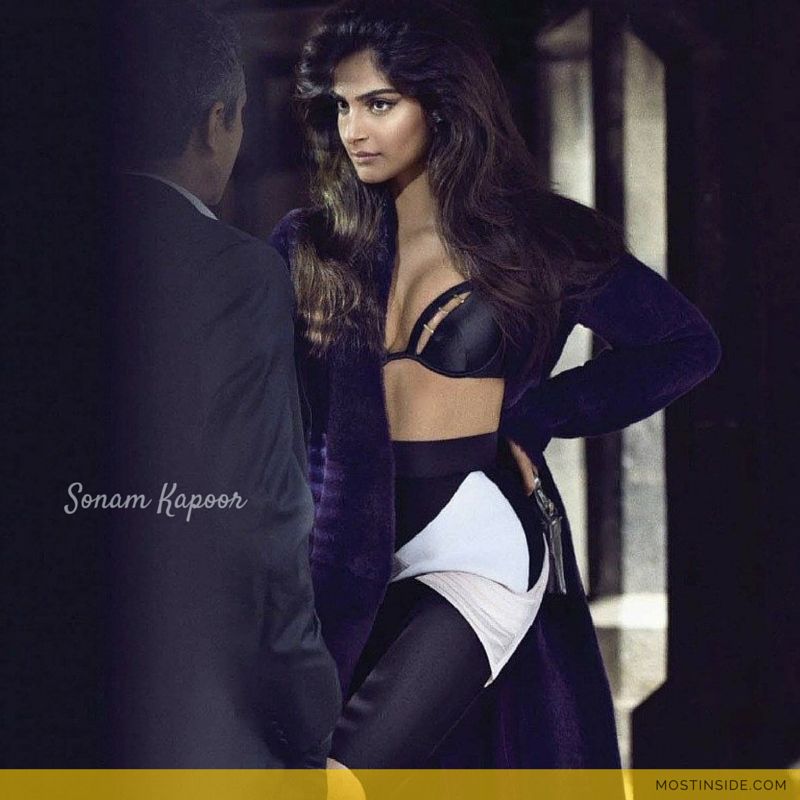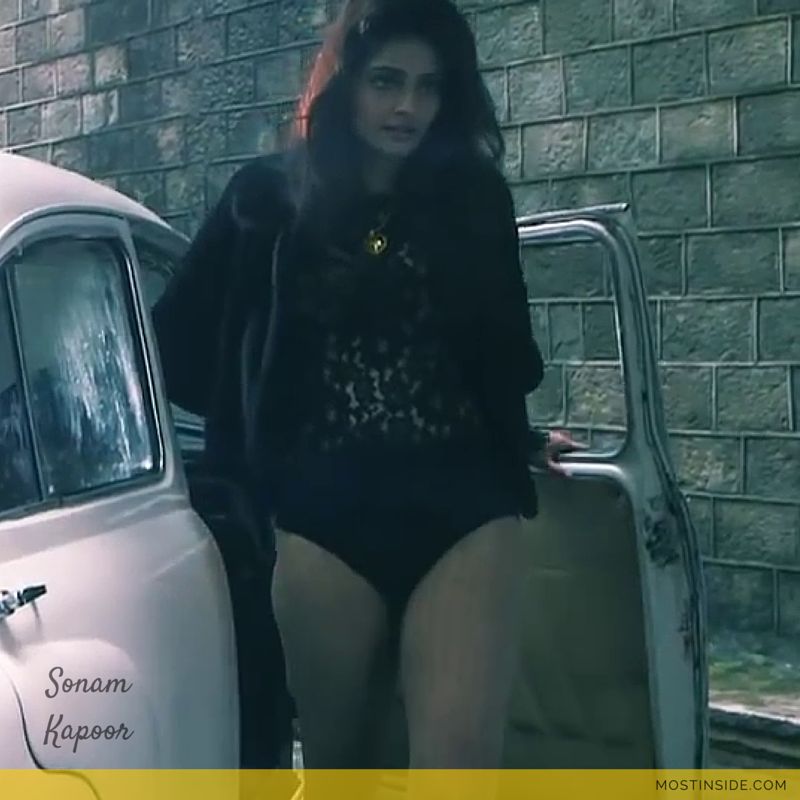 Recommended: Sonam Kapoor's Fitness & Diet Mantra