10 Distinguished Traits Of Ultra Successful People That Make Them Live Life King Size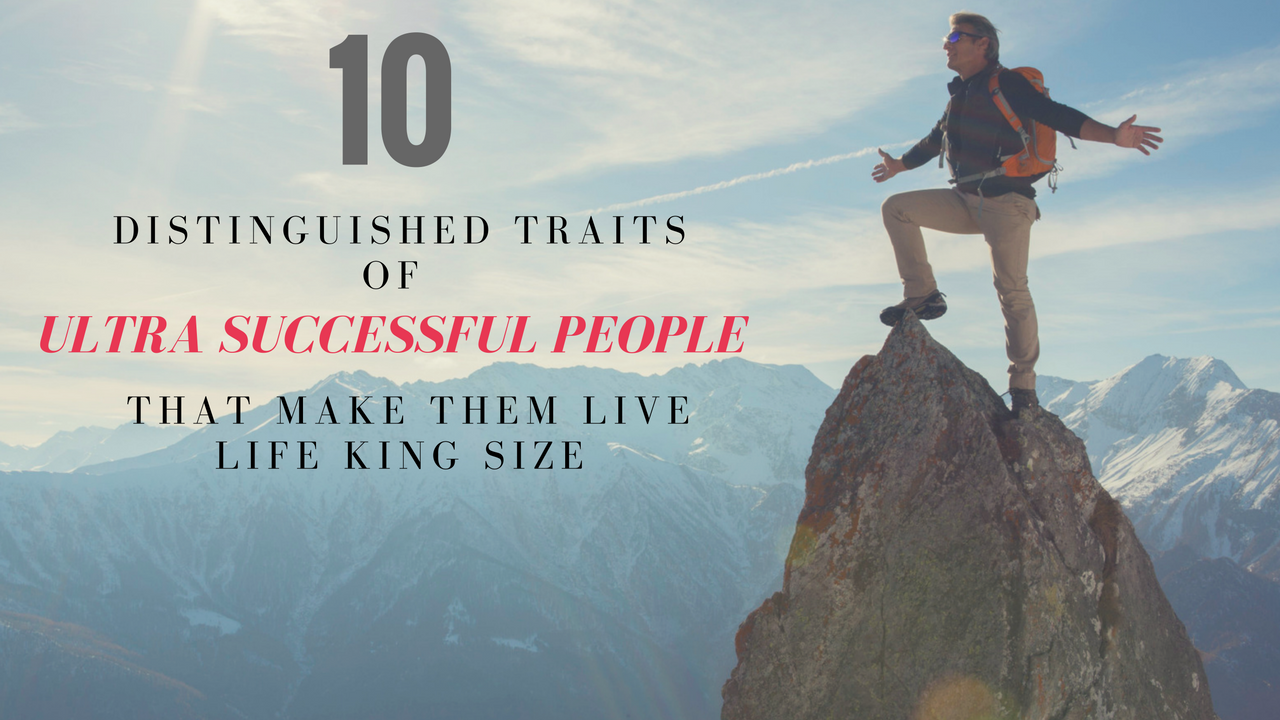 You are destined to attain success when you show the guts to fulfil your dreams by fighting all odds coming in succession. Success is definitely not a destination. It is a journey of attaining successes and pacing ahead. We often come to know that various ultra successful people started from being a commoner. Reaching to such incredible heights of success definitely requires a different outlook towards life and innate desire to put in sincere efforts. In the journey from being a zero to being an inspiration to millions of people, the self made and ultra successful people have taught people that viewing life differently is the only key to actualise your dreams. Here are 10 distinguished traits of ultra successful people that make them live life king size:-
1. They Love To Be Surrounded By People With Great Talent
For being successful in your endeavours, you need to be accompanied by people who are passionate about their dreams and productively work to attain them. They will be always motivating and will provide you with the kind of vibrancy that you require for keeping your mind and actions in the direction of achieving the success you have always dreamt of. Successful people know the important of every action in their lives and therefore, being surrounded by people with great talent enables them to unleash their true potential.
2. They Think Big
When life throws challenges, most of us exclaim 'why me?'. But successful people say 'try me' and they perceive problems as the small challenges and emphasise on thinking big solutions that can bring a great change in their life. Challenges don't scare them and they are always in the quest of finding innovative ways to keep problems at bay. They perceive that facing challenges with a positive state of mind helps in nurturing your attitude towards life and work and broadens your outlook.
3. They Take Calculated Risks With Confidence
Successful people have the confidence in trying new things. They don't shy away from taking risks. Researchers suggest that ultra successful people are adept in taking huge risks. But the truth that needs to be understood is that these people are far sighted and are experts in assessing the forthcoming challenges, benefits and whether taking such risk is worth the time, money and energy. They are seasoned in taking calculated risks, which is why they are successful opportunists.
4. They Are Good At Executing Their Plans
For being ultra successful, not only it is essential to have a positive and creative mindset, but it is equally important to be good followers of plans. Being a great talker or creating great ideas accompanied by the acute sense of identifying opportunities and executing them at the right time is one of the great qualities of an ultra successful person.
5. They Believe In Continuous Learning
Ultra successful people love reading inspirational stories shared by great minds across the world. They keep learning from people around them and don't believe in keeping the knowledge level stagnant. They have the urge to learn life-long and respect knowledgeable people in every domain. They nurture the mantra of learning every moment in life for attaining greater wisdom and they believe that it is only through constant enhancement of knowledge that they can achieve greater heights in their life and career.
6. They Are Smart Negotiators
There is an old saying that people don't become wealthy by spending in an ad-hoc manner. This is definitely true because ultra successful people, despite being benevolent and generous, are great negotiators and pay greater attention to detail when it comes to business. In fact, as they grow more and more successful, this quality of theirs tends to improve, despite having lesser need to pay attention to details.
7. They Strictly Follow Their Most Efficient Routine
Ultra successful people are great at experimenting with their routines to identify the routine that unravels their most productive side. They have clear routines that they repeat but they make suitable changes to ensure that proper work life balance is attained. They believe that constantly changing routines and unmanaged lifestyles can bring more stress and reduces the efficiency of the brain, thereby declining the mind's ability to take right decisions. Having proper routines for increasing the comfort level can help in getting proper rest for the mind, thus contributing more to the level of success.
Recommended: 10 Habits Of Successful People To Keep Improving Themselves
8. They Focus On Networking & Maintaining Relationships
Ultra successful people have a typical tendency to befriend with small set of people who share their passion and commitment towards life and work. They highly value the people in their networks and try to develop mutual trust so that they can work together to further strengthen their bond. Indulging with such people through effective networking helps in attaining mutual success.
9. They Prefer To Work In Clusters
Ultra successful people know that instead of brainstorming alone, pooling various creative minds can bring success to their endeavours. Therefore, they work with clusters of individuals who can build meaningful relationships and have the zest to work together for making every small step a successful one.
10. Money Doesn't Act As The Driving Factor
You cannot lure an ultra successful person to work on your project for monetary benefits. Ultra successful people care for their work and they are passionate in putting their 100 percent on their work. They feel a sense of achievement when they work for the satiety of their ideals and goals and money can never be their priority while taking up projects.