How To Use Castor Oil For Acne Treatment?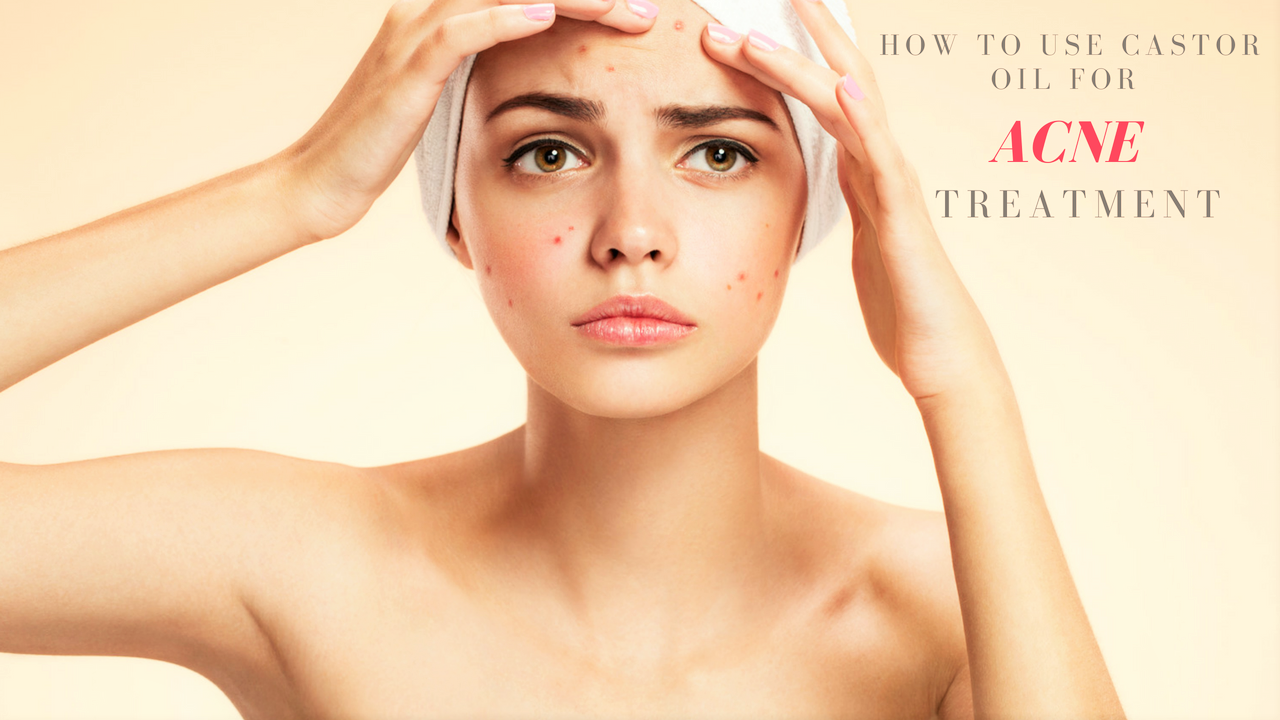 Everyone wants to look beautiful as a flawless skin fills us with more confidence and self esteem. We take pride in presenting ourselves in the public. But many times, during teenage or due to hormonal changes or some allergies, we may develop acne on our skin. It starts with few breakouts but eventually improper skin care regimen causes the infection to spread and we face with multiple pimples covering mostly the T-region of our face.
People suffering from acne seem to lose confidence while posing in the public and they sometimes feel left out in their friends group. They become hyper sensitive when people mock them for the way they look. Thus acne is a nightmare for people of every age. But if you want to clear your acne with the help of a natural remedy, then you need to try castor oil. Castor oil is a vegetable oil made from pressing seeds of castor oil plant known as ricinus communis and is a pale yellow liquid with a distinct odour.
When dust and impurities clog the skin pores or when there is over secretion of sebum oils in the skin, then it irritates the skin causing inflammation that results in acne. You can use castor oil for extracting dirt, excess oil, bacteria and dead skin cells and thereby unclog the skin pores. This age old technique called oil cleansing method penetrates deep into the skin to cleanse it from within. If you want to know how to use castor oil for acne treatment, then you must read this proper method of castor oil usage on the sensitive acne prone skin:
Steam Up Your Face
You need to steam up your face well so that your pores open up and you can easily embark with the next step. For steaming up your face, boil some water in a pot and then pour it into a pan. Then cover your head with a towel and let the steam from the hot water seep into your skin. After sometime, your pores will start opening up and now you can uncover your head.
Gently Massage
Since your skin becomes hyper sensitive when you suffer from acne, you need to be extra careful while massaging it. Any harsh movement and you will end up spreading the infection to another area. So take few drops of castor oil in your palm and dip your ring finger in the oil and softly massage it over the acne in the face. For other body parts where you suffer from acne, you can gently massage castor oil with your palms. If you don't want to use fingers for massaging castor oil on face, then you can use a small cotton ball dipped in the oil and massage with it in circular motions.
Wipe Out The Oil
After around 15 to 20 minutes, you need to take a towel dipped and rinsed in warm water and pat dry your face gently so that the oil is removed from face and other parts of the body. While wiping out the oil, you need to be as gentle as you can or you may damage your skin further. If at all you feel that the oil is still on your face, then you don't need to worry as the next step will take care of it completely.
Take A Cold Shower
This step is one of the most important steps that many people actually forget. After you gently wipe out castor oil from your face and other body parts, you need to take a cold shower to ensure that all the oil, which is now mixed with the skin impurities is removed from the skin deeply.  Also the cold shower closes your skin pores and it is very essential to close the open pores so that more dirt and bacteria does not enter the skin.
Recommended: Natural Acne Treatment For Women
Moisturise
After the cold shower, you must ensure that you don't leave your skin without moisturising. Instead of using chemical based moisturiser, take few drops of castor oil and evenly apply all over the face and leave it overnight. Then cleanse with cold water in the morning.
If you follow this method religiously for at least two weeks, then you will be amazed to see how good is castor oil for acne treatment. People started using castor oil for acne treatment because it has been revealed by medical studies that the oil helps in deep moisturising of the skin while preventing the skin to produce oil on its own that leads to clogged pores and pimples. It has also been noted that castor oil helps in instantly curing skin inflammations and redness and thereby protects the skin from being prone to acne.
These days, people hardly find time to get such in depth treatment at home and for such busy bees, there are natural and organic castor oil soaps and facials, which can be easily used on skin and gives similar results too.