Ways to convince your parents for Love Marriage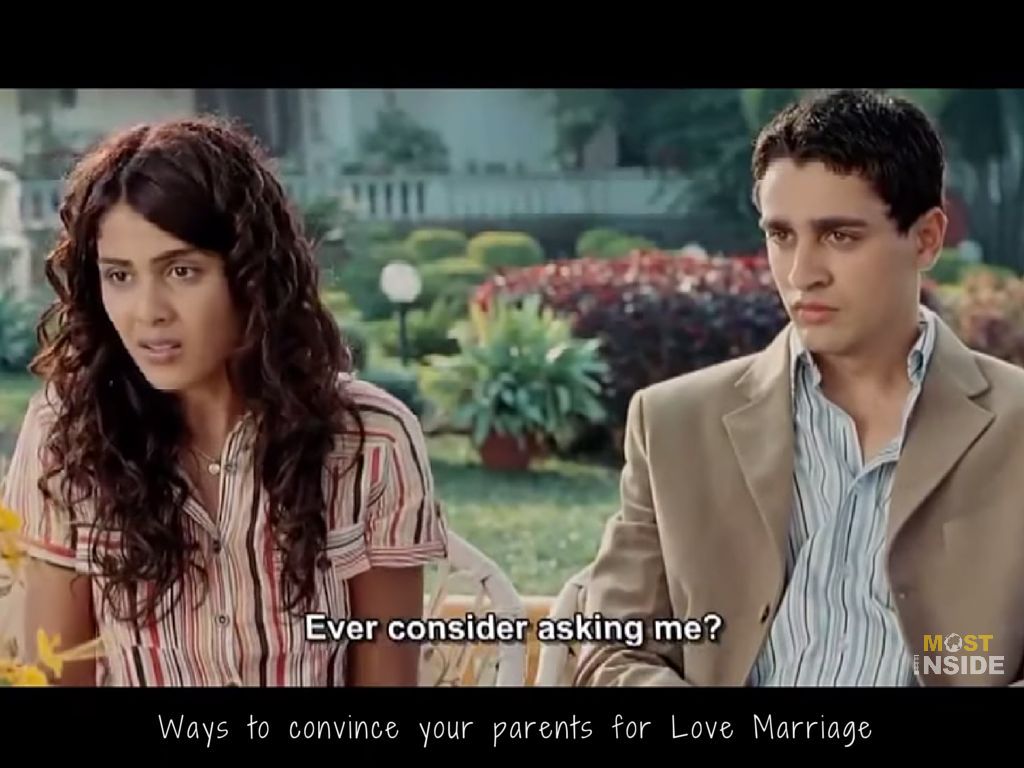 Love which has become a very mundane affair of our society, is dealing with so many hurdles despite of numerous real and honest efforts. The major cause of looking into 'Love' or 'Love Marriages' issues in a real bad way by most of the senior citizens and parents, is its previous track record. According to the latest marriage & relation surveys, 85% of love marriages in our country have failed drastically, which creates a bad impression and record for future love marriages and becomes a huge obstacle. People fall in love, try to deal with parents, if get success in dealing, then they get married and divorced too and if fail in convincing, they move out unwittingly and raise their family. Which parents would like to face such heart breaking scenario created by their own kids? Well, for these complications of so called "Love Marriage", a huge breach emerges between parents and their kids.
Look, we can't just only blame our parents for this brawl over love situation, because the young generation people are the one who are equally responsible for this complication. To be honest, we all are looking for a short term plan or way out to convince our parents for love marriage. Isn't it? Yeah. But only short term plans, not going to help really. So if you people are verily looking for a way out for making your parents thumbs up for love, then let's make it more practical, logical and inspirational for an assured short term as well as long term way out. Here we go!
1. Find a right moment to talk to your parents.
Try to start your conversation, when your parents are in a happy and fresh mood. Avoid, not to talk when they are in irritated, exhausted or tensed mood. Talking in a joyous mood helps them to understand you better.
2. Highlight your reason, why you love him/her.
Make a list of why you love your partner and why you want to marry that person. That will create a positive impression.
3. Make your parents meet your love.
Let them meet your love, because that will help them to make a clear image of that person in their head before taking any decision for you.
4. Try to convince any one of our parents first.
Yes, don't just go for both. Slow and steady wins the race. Try to win one mind first. That will help you in winning over next mind and will avoid overlapping of both mind's opinions.
5. Avoid arguments and loud voice.
Don't lose your temper. Go easy. Loud voice, arguments, fights will worsen the situation and will create negative impact on your parents which will prove your immaturity. Show your love for both, your parents and your partner. This will make them think that you want both in your life, not any over other.
6. Show some successful love marriage examples.
Find out the best love marriages those have survived so nicely and beautifully. This can help you to prove your point.
7. Try to make your love marriage successful.
Yeah, that's right. Remember "long term"? I am talking about setting good examples for future. Guys, if you succeed, then help others to succeed too. Make your love marriage blissful and beautiful, so that your next generations don't get into the same trouble.
8. Clean the blacklist record.
That is what we all can make love to succeed, together. Let's try to change the negative opinions over love and love marriage. Avoid fights, brawls, egos, immature activities, unnecessary and unethical show off of love in social and public places, rather being sensitive, responsible and honest.
You may like this