9 Amazing Ways To Stay Calm During Tough Times To Attain Success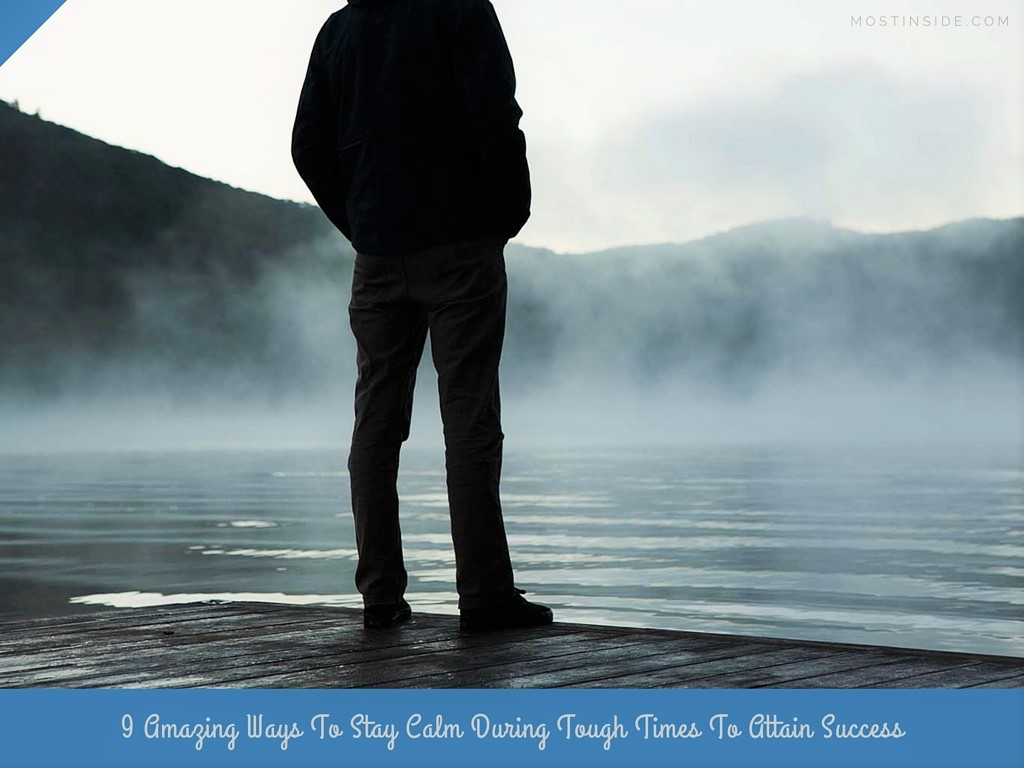 What do you do for de-stressing your mind? Do you take long breaths or count in descending order or try to smile looking at the mirror? So what happens when you are facing tough times? Why do you tend to forget these simple techniques that helps to keep the mind calm and handle difficult issues in a creative manner?
When things go wrong, the key to handle the situation is by staying calm. You must have complete control on your emotions and take a deep breath. Stop your mind from thinking in an ad hoc manner and try to think about all the perspectives of the situation. After assessing the situation, decide your plan of action. In this way, you will emerge as a great decision maker and eventually attain success in life.
We all face adverse circumstances at many points of life and we all have immense but hidden strength in ourselves to manage them efficiently. We just need to unearth the calm attitude from ourselves to sail through difficult phases in the easiest manner possible. There is a direct relationship between success and staying calm. Success is a journey that can show us many ups and downs in life. However, it is during the downs that our determination must go undeterred. For keeping ourselves strong, we must learn to stay calm by following these 9 amazing ways to stay calm during tough times to attain success:
Get Rid Of Complaining
When situations become difficult and test your patience, you must not keep your mind busy in complaining or blaming yourself or anyone for facing this situation. Even you know that staying calm will work but at such times, you hardly have any control on your mind. But if you keep on complaining, then your mind will hardly focus on what has happened and what will happen further if no action is taken. So to move forward and find a solution, you must stay calm and divert your mind from complaining.
Spend Some Time Alone
During tough circumstances, you will be surrounded by many people who propose various suggestions and give advices or place their opinions to influence your decision making process. They share their views with you as they feel that you need it or you yourself ask for it. But at such times, you must spend some time alone and listen to your mind. You need to analyse why you are in that situation so that you find a way to come out of the closet all by yourself.
Stop Thinking Negatively
Difficult situations can play havoc with your mind set. You ought to become negative in your approach. If you lose control of your thoughts, then you will keep worrying about what else will happen due to this situation and how greatly it has impacted on your life and working. But you must understand that these thoughts won't help you find an answer to your problems. Instead you must be positive that you have come so ahead in your way that nothing can now deviate you from attaining your goals. Just try to stay positive and you will then be flooded with options to overcome the difficulties.
Drink Enough Water
As you know, the brain is composed of 70 percent of water and when you get stressed while facing a tough time, then your brain muscles get strained. At this time, sit back and have a glass of water that will cool down your senses and will regularise the functioning of your brain. Make sure that you drink the water slowly by concentrating on how the water is going inside your body. You must drink water to have a deep cleansing of your mind and body so that you feel refreshed to tackle the situation with a new zeal.
Stop Doing What Have Done Till Now
It will be your stupidity if you expect different results by performing a task in the similar way over and over again. If one of your completed task has resulted in a difficult situation, then repeating it in the same way again and again, will make the situation worse. The moment you find yourself in a jeopardy, you must sit and back and find out what has happened and how. When you find answer to these questions, then you will be able to devise a better plan of action and will not repeat your mistakes.
Recommended: Achieving Success by Visualizing Dreams and Goals
Use Your Emotions Wisely
It is common that you get engulfed in a web of emotions when you face tough times. What has happened, why has this happened, what should be done, how the damages can be repaired, etc are the common questions that will play with your emotions at such a juncture. You must keep in mind that your emotions can be your biggest strength. Rather than feeling stressed or depressed, give it a wise thought. Give yourself an emotional boost by saying that you never had this opportunity to show your creative phase and think what the happiness will be if you find answer to these problems. These feelings will drive you to keep your mind positive and help you in drafting new set of plans.
Be Quick In Taking Action
Some people have prowess in getting out of adverse situations because they have faced many such situations in their life and have never accepted failure. Rather than doing a complete analysis of the situation, you must focus on taking instant action to reduce its further impact. Most people waste time in thinking and realising the pain caused by the situation and lose the golden time that could have been effectively utilised in preventing the situation from getting worse. Without hesitation, put your best foot forward to get the control of the situation.
Stop Working On Other Tasks
When you have a difficult situation in front of you, then your mind is in a state of confusion. Unless you have a solution or plan of action in mind, don't embark upon completion of other activities as you are not in a state of accomplishing any task in the most efficient manner. You must keep aside all the tasks so that your mental distress won't have an effect on the performance of other work. Keep yourself engrossed in finding solution to subside the effect of the tough situation and when you do that, you will have a relaxed mental attitude to perform remaining activities.
Start Controlling Your Mind
You mind can go haywire after confronting a rough situation. You need to keep your mind calm and practise being calm at all times to deal trickily with such circumstances. Start your day by being calm and thinking that you need to be calm throughout the day. Challenge yourself to not lose patience. By being calm, you gain the ability to move forward towards your goals. A calm mind has the capability to have control over its emotions, while a stressed mind gains control over you and your actions. A calm mind guides to pave path for a bright future while a stressed mind pulls you back from attaining your goals.