Why You Should Stop Lying To Yourself?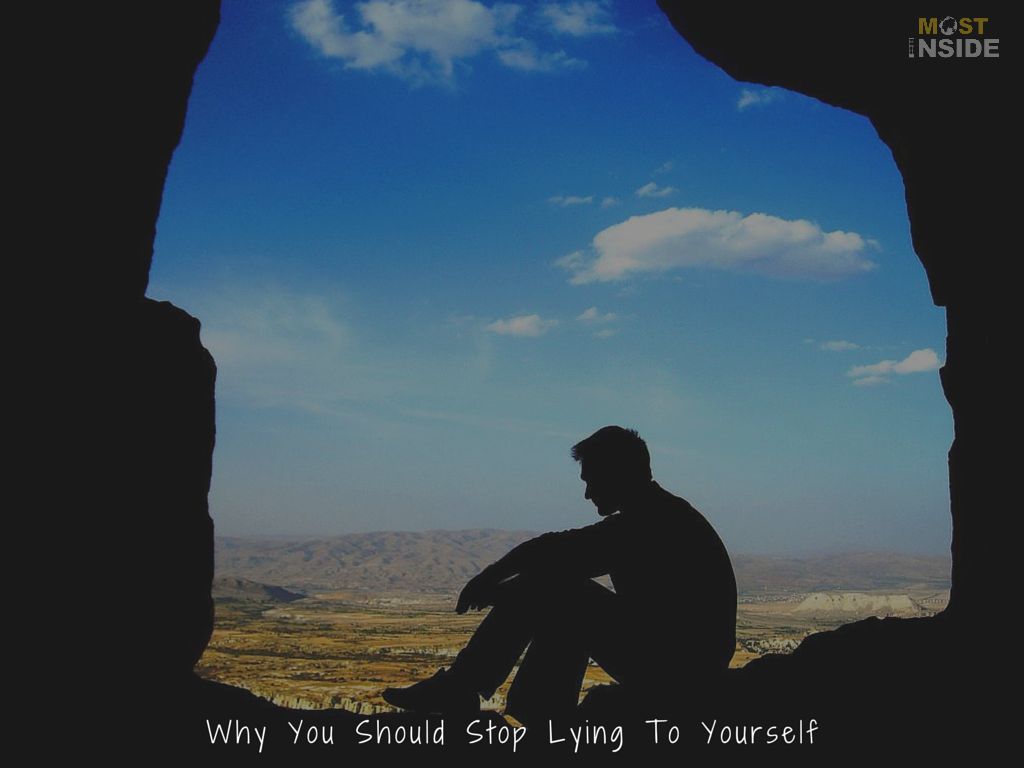 Every person lies. Lying is a habit that every person does but remains unaware of it. You lie to yourself because you seek comfort and advantage. You lie to yourself because you are scared of unknown and the truth. Lying to yourself is something like avoiding the mirror image of truth and yourself. You avoid pain, sufferings, drawbacks and fear by lying to yourself. You think avoiding the truth and lying makes your life easier. But sometimes your inner voice detects that you are lying to yourself hence it screams in your mind loudly to warn you not to lie but your fear fails you. Lying to yourself destroys your future not your present. Usually there's a fine line difference between a lie and a truth hence your logical mind finds it tough to differentiate between it and hence end up in lying to you. But this needs to be stopped. Lying to you is never ever a good idea for you. Why and how to stop lying? Here we go..
WHY?
Your goals will be more crystal clear and you will try every possible way to achieve it no matter how tough it is.
You will overcome your fear and will win over your weaknesses.
You will be more responsible and will never show your back to any trouble.
Your life will get a new direction full of hopes, ideas and positive attitude.
You will learn to believe yourself and will be more truthful to yourself.
You will gain self-respect and will be proud of yourself.
You will gain other's trust and belief.
You will get to improve yourself every single day.
You will become more satisfied and happy with yourself.
You will be more productive and efficient in your work field.
You will have less expectations and less expectations never hurt!
Your advices and opinions will always be appreciated and welcomed.
Your life could never be benefited from any kind of lie, it only ruins.
Your lie saves your present but waits to harm your future.
You lie to yourself and your individuality gets lost.
You will love unexpected changes by being true to yourself.
HOW?
You have to forgive yourself for hurting yourself for so long.
Be determined and make a decision not to lie to yourself further from now onwards.
Be true to yourself and have courage to face the consequences.
Detach yourself from the fantasy of remembering and reliving your past.
Don't say yes, if you really mean a 'NO'.
Identify and recognize your defence mechanisms while being true to yourself.
Avoid negative attitudes like fear, jealousy, anger, insecurity, selfishness etc. as these negative promoters induce you to lie to yourself.
Accept and admit your faults and flaws as this will help you not to lie to yourself and others.
Try to be yourself rather being someone you are not.
If you decide something, take action immediately because delay in acting might make you escape from the truth.
Be more optimistic rather being pessimist because the way you see the world is not exactly how the world looks like.
Fight and hold yourself while inner voice warns you that you are lying.
Make a practice to overcome your lying habit.
When you feel like lying say it loud 'I should not lie to myself' or 'I am not going to lie again' .
If you find it tough to control your negative habit, write it down on a paper why you are lying?, what are the consequences?, what worse could happen? and you will not lie no matter how worse it becomes.
So, guys remember you can lie to anyone in this world except yourself and when you lie to others, you lie yourself. There's no shortcut in this world and a lie directs you nowhere. To be successful you have to stop lying to yourself. "The most dangerous lies are the lies that you believe about yourself". So, let's be true.
You may like this