Inspirational Things To Learn From Dr. APJ Abdul Kalam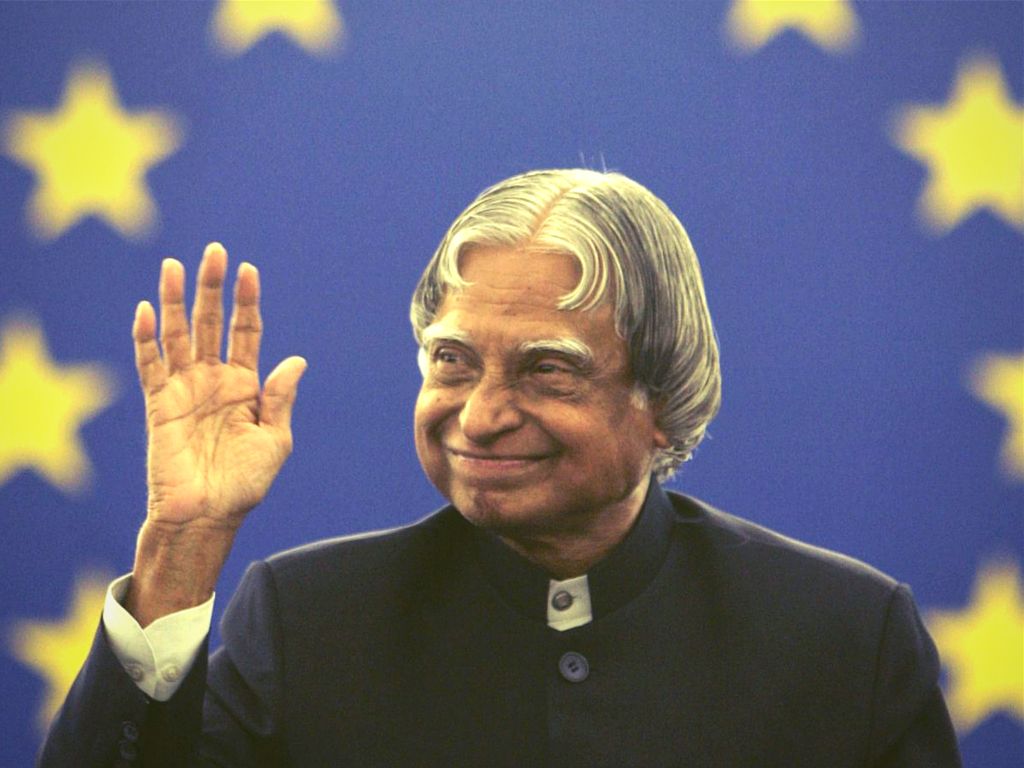 The 'Missile Man' of India Dr. APJ Abdul Kalam ( Avul Pakir Jainulabdeen Abdul Kalam) born on 15 October 1931 was country's first bachelor President who was popularly called as 'People's President' rose from humble beginnings, was neither a Hindu nor a Muslim but a great man who was loved by millions of people globally. Dr. Kalam who left us on 27th July 2015 with a huge wave of sorrow would be a great inspirational and motivational personality for everyone forever. In year 2005, Switzerland declared 26 May as "Science Day" to memorialize Kalam's visit to the country. Dr. Kalam reportedly suffered a cardiac arrest on spur of moment while he was in the middle of delivering a lecture on 'liveable planet' at the IIM-Shillong business school. On 13 September 2009 Kalam was honoured with International von Kármán Wings Award. He was also conferred with the degree of Doctor of Science by 30 Universities globally. Not only this, Kalam was honoured by The Government of India with the nation's highest civilian honours; Padma Bhusan in 1981, Padma Vibhushan in 1990 and The Bharat Ratna in 1997.
APJ Abdul Kalam was The Man of Vision and an inspiration for youth full of ideas and always aimed at the development of the nation. Kalam who was 83 years old was the first scientist and first bachelor to occupy Rashtrapati Bhavan. Dr. Kalam was India's 11th President on 25th July 2002 focusing on the transformation of India into a developed nation by 2020. The more you speak of this legend, the less it is. Kalam was a great man with a great soul who inspired many people especially the youth of India with his glorifying and dignifying words and thoughts. Here are some of his best inspirational words and life facts to learn.
Quotes by Dr. APJ Abdul Kalam
If you want to shine like a sun, first burn like a sun.
Man needs difficulty in life because they are necessary to enjoy the success.
All of us do not have equal talent. But, all of us have an equal opportunity to develop our talents.
Without your involvement you can't succeed, with your involvement you can't fail.
It is very easy to defeat someone, but it is very hard to win someone.
Don't take rest after your first victory because if you fail in second, more lips are waiting to say that your first victory was just luck.
All birds find a shelter during a rain. But eagle avoids rain by flying above the clouds.
Be more dedicated to making solid achievements than in running after swift but synthetic happiness.
Dreams are not those which comes while we are sleeping, but dreams are those when you don't sleep before fulfilling them.
Difficult in your life do not come to destroy you, but to help you to realize your hidden potential and power, let difficulties know that you too are difficult.
Failure will never overtake me if my definition to succeed is strong enough.
Thinking is the capital, Enterprise is the way and Hard Work is the Solution.
Suffering is the essence of success!
Confidence and Hard work is the best medicine to kill the disease called failure. It will make you successful person.
You cannot change you future, but you can change your habits, and surely your habits will change your future.
We should not give up and we should not allow the problem defeat us.
Black colour is sentimentally bad, but every blackboard makes the student's life bright.
Don't read success stories, you will only get a message. Read failure stories, you will get some ideas to get success.
Life Facts of Dr. APJ Abdul Kalam
Born on October 15, 1931, Kalam came from a humble and ignoble background. He sold newspapers to back his family financially when he was a kid.
Kalam is popularly known as the father of Indian Missile Technology and has played a prominent role in India's 1998 nuclear weapons tests.
Kalam Sir brought dignity to whatever he did. Even politics!
Before becoming the president, Dr. Kalam worked as an Aerospace Engineer with DRDO and ISRO, hence was called the "Missile Man" of India.
Kalam was much more than a political figure. He was a scientist, writer, inspirational speaker and motivational personality. Dr. Kalam's infectious personality had not just inspired Indians but also great personalities like Nelson Mandela, George Bush and Barack Obama.
Kalam was also nominated for Youth Icon of the Year award by MTV in 2003 and 2006. His age was 73 and 76 then respectively.
In 1998, he along with cardiologist Dr Soma Raju developed a low-cost coronary stent which was later named 'Kalam-Raju Stent' in their honour.
Kalam had received several awards and recognition for his significant and golden contribution to scientific research and modernization of defence technology in India.
Kalam was a great colleague too who went an extra mile for his co-workers.
When Dr. Kalam first moved to Rashtrapati Bhawan in year 2002, he asked all luxurious rooms to be locked up as he didn't want to use them.
Kalam was a great inspiration to many, especially youth and kids, and always inspired them to dream big and achieve great goals in life.
He was also a Veena player and was filled with zest and energy. He loved students and died doing what he loved the most, spending time with students, delivering motivational words and being among them.
It is true that Dr. APJ Abdul Kalam's demise is a huge loss to our nation, but let's be proud of this influential personality and our nation where he lived to salute him forever as a shining star which will lead us to an era of excellent future forever. RIP Dr. APJ Abdul Kalam
Recommended