Best Websites To Register Private Limited Company Online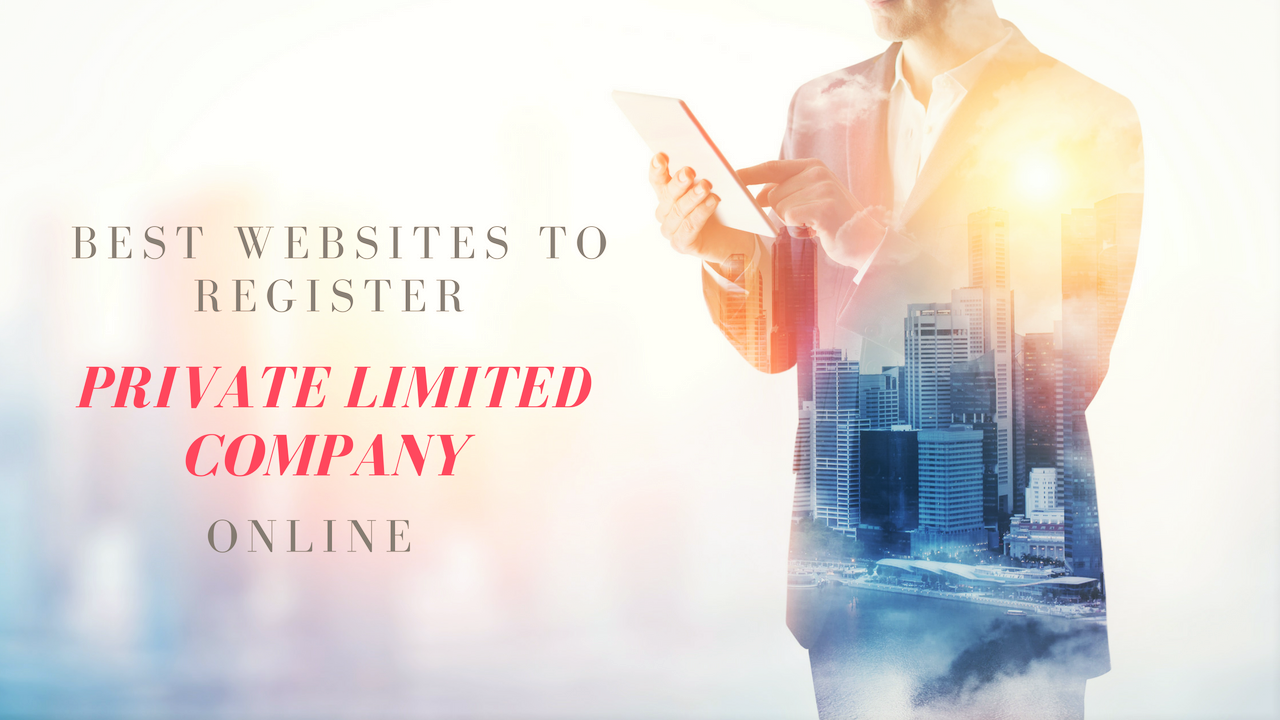 When everything is getting digitalised in this modern world of tech geeks, motivating new start-ups to get legal existence is the online company registering websites, who offer quick and economical services in addition to their personalised services. Registering a company seems to be an exhaustive task with huge cost, time and efforts involved, but there some pioneering organisations that can easily register your entity and provide some specialised advantages, which can boost your work processes, productivity and market reach. Before getting your company legalised, your firm may be of a sole proprietorship or partnership nature, but on registering, your company runs and can be closed only through legal procedures.
Before knowing the various websites that register private limited company online, here are 4 important reasons why you must register your company –
Perpetual Succession
A company enjoys uninterrupted existence unless it is dissolved legally. Being a separate legal person, the company continues its existence even after death or departure of any of its members. Its existence remains unhampered even if there are major changes in the membership.
Separate Legal Entity
A company is titled as a separate legal entity under legal acts, which has been endowed with the power of owning property and incurring debts. The members of the company are not legally bounded for such debts of the company to the creditors.
Owning Property
Being a juristic person, a company can acquire, own and alienate property in its own name. No shareholder has the right to claim any of the company owned property as long as the company continues to be in existence.
Raise Finances
A registered company that enjoys separate legal entity has greater opportunities to borrow funds and raise investors. It can issue secured and unsecured debentures and accept deposits from the public. Moreover, financial institutions find registered companies reliable while lending huge loans in comparison to proprietary concerns or partnership firms.
Limited Liability
A company has limited liability which implies that it is legally responsible to limited amount debts. In case of a limited liability company, the liability of the members in relation to company's debts is limited.
Easy Transferability
Shares are transferable in a company limited by shares and a shareholder has to just file and sign a share transfer form to hand it over to the buyer of the shares in addition to share certificates.
These are in fact, some of the basic advantages of getting your company registered. But here some rules that must be followed to register private limited company –
Requirement of minimum two directors and two shareholders.

Share capital of minimum one lakh must be raised.

At least one director should be an Indian resident.

According to the articles of association, shareholders / directors are abstained from transferring their shares.

Fifty is the maximum limit for the number of shareholders.

The general public is not allowed to purchase shares or debentures of a private limited company.

Deposits are allowed only from members and directors or their relatives.
To register a private limited company, there is a formal process as given below –
Digital Signature Of The Director
It is mandatory while filing with MCA and an application with ID and address proof duly attested by a Gazetted office, Post Master or Manager of a Nationalised Bank must be submitted.
Director Identification Number
DIN is a unique number, which is allotted to a director of the company. For getting this number, applicant must submit attested photo, ID and address proof along with the application.
MOA & AOA Of The Company
Legal documents like the Memorandum of Association (containing details regarding the amount of capital to be raised through share issuance along with present and future usage of the capital) and the Articles of Association (defining the internal clauses and the functioning of the company) must be sent for verification to the registrar.
Company Name Approval
For registering a company in India, name approval from ROC is mandatory and the name must be new and unique. It is essential that the name of the company should not closely resemble to the name of any other registered company.
Company Incorporation
On the basis of the declaration and information furnished in the application, the ROC registers the company and issues a certificate of incorporation that serves as a legal proof of the registration of the company.
PAN, TAN & Bank A/c  
A bank account in the name of the company must be opened after the company is allotted PAN and TAN for TDS compliance.
To go through these steps singlehandedly, you will have to invest loads of time, money and effort, which could otherwise be utilised in more productive ways that can help your business get the right headstart. Therefore, to ease this process, there are some highly reliable and popular websites to register private company online, who will ensure that you dedicate your precious time and entrepreneurial efforts in setting up your business, while they will demonstrate their professionalism at affordable charges:-

It is India's largest business services platform working online to fulfil their company mission of helping entrepreneurs start and operate successful business ventures. They render their professional services to help you comply with necessary legal and regulatory requirements and partners with you throughout the business lifecycle for offering support at every stage to ensure that your business remains legally compliant and grows on continual basis.
IndiaFilings.com can register private limited company online in 14 to 20 days, subject to the ROC processing time. With simple and transparent pricing policies, an entrepreneur can choose between basic, standard and premium upgrades that range around Rs. 15899, Rs. 19899 and Rs. 25899, respectively. While the basic plan ensures the fulfilment of the registration process mentioned above, the standard plan offers an additional feature of one year TDS filing and the premium plan offers one year TDS filing and trademark registration along with the offerings of the standard plan. IndiaFilings.com offers 30 day money back guarantee, 24x7x365 support via mobile app, live chat, phone and email and easy payment options such as EMI, credit or debit card, net banking, PayPal and more.

Offering company and trademarks registration online is QuickCompany, which is a technology company based in New Delhi. They work with the aim of making company registrations in India quick and hassle free by taking up the entire responsibility of the bureaucracy tasks so that you can concentrate on your enterprise's future.
QuickCompany takes around 10 to 20 working days after furnishing all documents and information for completing the process of registering private limited company. The charges that need to be paid are Rs. 12499, which are inclusive of all taxes and govt. fees. QuickCompany guarantees refund of your money in case of any sort of dissatisfaction along with risk free filings.

One of the most popular websites to register private limited company online is LegalRaasta.com that has been the industry pioneer for more than 10 years. With 30+ offices in India and partnering with high cadre professionals, LegalRaasta.com is fast and economical option for start-ups looking for funding or growing their business.
LegalRaasta.com can incorporate a private limited company in a span of 15 to 20 days provided time consumed in submitting documents and getting approvals from the government is speedy. The charges for registration start from Rs. 13499 and they offer money back guarantee too.
Having more than 140000 happy customers, Vakilsearch.com has established its niche in the top websites registering private limited company online. The website claims to enjoy a 9.1 customer score as they make the government and entrepreneur interaction as smooth as possible. They do all the paperwork for you while giving you utmost clarity of the processes followed during registration. Vakilsearch.com is backed by over 160 professionals, who are a team of experienced business advisors. They are just a phone call away and you can clear all your queries and concerns before finalising your decision to register your company.
Vakilsearch.com takes around 15 working days to comply with the incorporation procedures and charges start from Rs. 16384 that can even be paid through easy EMIs. They ensure 100 percent confidentiality of all the information and offer customer satisfaction guarantee too.

With more than 9400 start-ups registered, setindiabiz.com ensures that you are in experienced and responsible hands as its core team of professionals work 24x7x365 to deliver impeccable service. They offer free start-up advise, ensure systematic and planned process for registration, 100 percent data security, optimum use of IT set up, dedicated Start-up Specialist to co-ordinate your company's registration and supervision through a particular quality team.
setindiabiz.com ensures to complete the company incorporation process in a matter of just 20 days and its simple and transparent pricing policy allows you to choose between basic, silver and gold plans. The basic plan comprises of the whole registration process at a price of Rs. 15000, the silver plan comprises of the basic pack + TDS return filing service for one year at a charge of Rs. 19000 and the gold plan is available at Rs. 24500, which consists of silver pack + filing of trademark to protect your brand name. What's more is the 30 day money back guarantee and option to make online payments even in EMIs.
Recommended: Top 5 Things to Keep in Mind to Built a Startup Office