Easy and Effectual Home Remedies to Reduce Dark Circles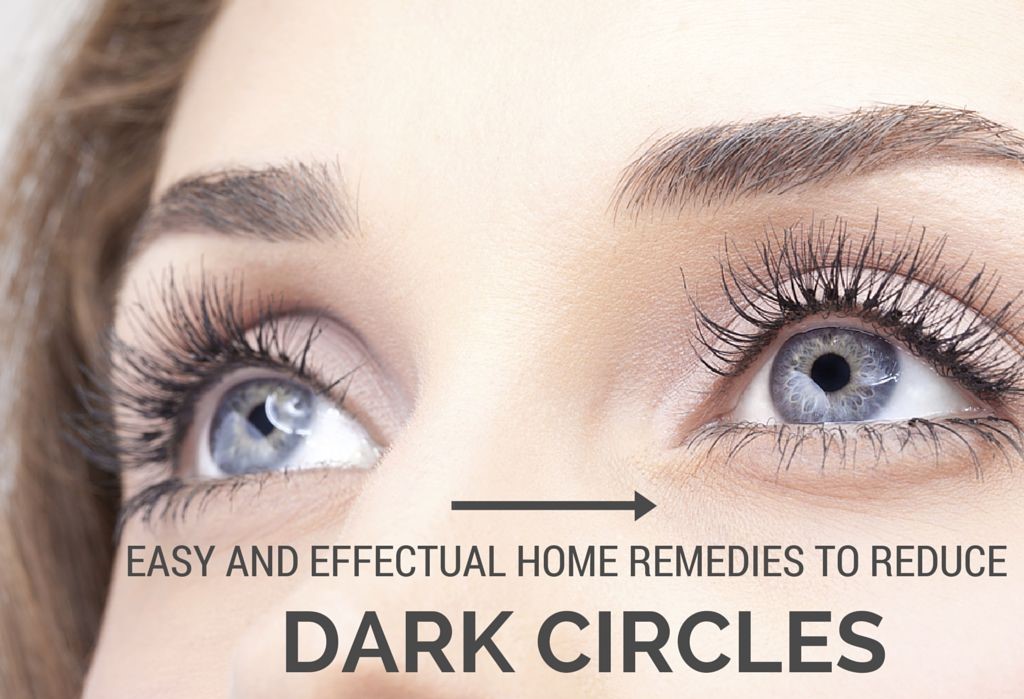 Dark blotch of the skin under the eye is usually referred to as dark circles. Dark circles are also known as dark rings or dark shadows. Dark circles under the eyes which normally upsets every beauty conscious girl and is the most important concern of every person as well. These dark semi-circles or bags reduce the freshness of the face leaving the person looking pale, ill and even old.
Dark-patchy semicircles under the eyes are called "tear tracks," which may give an impression of ageing and ill-health. However, dark circles are more likely a cosmetic issue than the real health issue. But, there are some effective methods and tips which can help you to get rid of these dark patchy semicircles permanently and effortlessly. So, say 'goodbye' to dark circles.
Believe me or not, you can definitely get rid of dark circles by sleeping minimum of 8 hours of sleep every night.  It's the most simple tip you can ever get for all your beauty issues. If you do not get enough rest and sleep, the blood goes in thinner skin areas, leading to dark circles or shadows under the eyes.
While sleeping, use an extra pillow to raise your head a little bit as the fluid will not get accumulated in your face causing blotch to appear below your eyes.
Have a healthy diet as dark circles appear due to the deficiency of vitamins in your diet. Try to have more antioxidant rich food and Vitamin C as they brighten up your skin.
If you are using any eye lotion, then keep in refrigerator as cooling effect tighten up the pores reducing the dark blotches.
Tomatoes are very much effective for dark circles. Make a paste of 1 teaspoon fresh tomato juice, ½ teaspoon of lemon juice, a pinch of turmeric and gram flour (besan). Apply it gently under your eyes, keep it for 10 minutes and rinse off.
Recommended: 11 Major Causes Of Dark Circles
The cooling effect of cucumber and potatoes slices makes them effective remedy of dark circles. You can apply any of these both on your eyes to reduce darkness and swelling. You can also use their juice and dab with a cotton ball. For best results, you leave the remedy over night.
Tea bags are also preferred as beneficial treatment for dark circles. You can place cold tea bags on both eye and let it rest for a few minutes. Pat it dry and you can feel your eyes rejuvenated.
Another effective and popular remedy to remove dark circles is almond oil. Apply the almond oil under your eyes and leave it overnight. Wash it off gently after waking up in the morning.
Cold compress is one of the most scientific and effective method to reduce dark circles instantly in appearance. You may use an ice bag or a cloth dipped in cold water, or a frozen spoon. Simply dab or apply anyone of these near and under the eyes.
Crushed mint which is an ideal option for treating under eye dark circles, gives a cooling effect and immediately soothes the tired eyes, which helps to reduce dark circles up to much extent. Place the crushed mint leaves under the eyes and leave it for few minutes. Then wipe off the residue with damp cotton.
Water, the simplest and the essential component of all remedies. Water promotes proper blood circulation around the eyes and prevents the accumulation of blood around eyes. Drink around 8 to 10 glasses of water daily which will flush off the toxins leaving you with a healthy skin.
Pineapple can also help you in reducing dark circles. Apply the mixture of pineapple juice and turmeric powder, under your eyes keep it for 10 minutes and wash it off.
Rose water is an incredible ingredient for the skin care. It not only rejuvenates the skin but also gives you a soothing effect on tired eyes. Its mild astringent properties, works as a good skin toner. Dip cotton balls in rose water and keep it under the eyes for 20 minutes.
Take few saffron strands, soak in milk overnight and prepare a paste of it. Apply it over the affected area of dark circles and massage for a while before washing the eyes.
Applying cold milk or iced water compress over the dark circles under the eyes for 15 – 20 minutes, can also be effective for reducing dark circles.
Eat plenty of fruits and green leafy vegetables which are rich in vitamins and iron. You can blend 2 fresh tomatoes, lemon juice and a pinch of salt to drink the juice daily or every alternate day for a healthy skin, dark patchy circle free eyes and refreshed eyes.
Daily exercises with deep breathing improves blood circulation, oxygenation and reduce stress level which can ultimately minimize dark circles naturally.
Try to limit or eliminate alcohol and caffeine as they dehydrate your body more and more.