Is Living In A Gated Community A Wise Decision?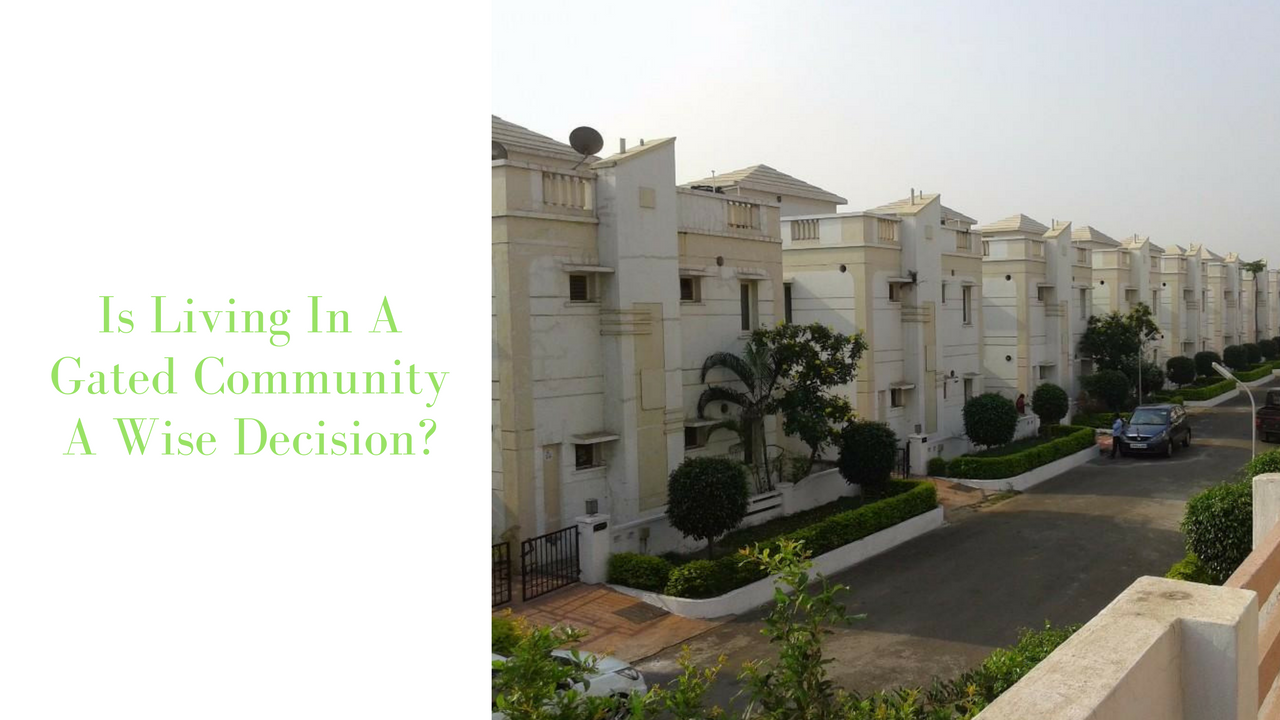 In this fast developing world, everyone wants to have a place that gives them an escape from the monotonous routine. This paradise is actually your home where you can forget all your tensions and routine and be yourself. When thinking of buying a home, there are various kinds of houses one can look for. While choosing among these properties, people mainly consider safety, security, price, access to public transports and markets, etc.
Speaking of different kinds of housing properties, gated communities are gaining huge popularity. In comparison to conventional real estate, gated communities offer protected and controlled living environment, which are major factors influencing people who want luxury combined with peaceful and independent living. These gated communities are neighbourhoods set back from the road and are surrounded by gates, which are guarded by security officials. People living in such places can get access to livelihood necessities like entertainment, parks, hospitals, schools, shopping, ATM, etc.
While some love the exclusivity and privacy of houses in gated communities, others feel they are quite expensive and don't like to be monitored by guards. Here are some merits and demerits that will help in analysing if living in a gated community will be a wise decision for you or not:
Merits
1. Safety
One of the most valuable benefits that you can get from living in a gated community is the assurance of secure environment. The guards monitor the visitors and only authorised people can enter the premises from multiple entry points. Also installation of security cameras and interconnected phones can help in keeping a check on the activities near your gated community. This is why, gated communities are said to have comparatively lower crime rates. Thus, you can get the sense of security while enjoying privacy of an independent bungalow.  
2. Modern Amenities
The rise of nuclear families have resulted in surge for housing establishments in the cities, which has caused huge crowd in parks and other play areas for children. The gated communities however, are perfect solution for families as they offer ample play area and there are nearby schools, hospitals, supermarkets, etc. Even civic provisions like water, electricity and well maintained roads are plus points in gated communities.   
3. Privacy of Neighbourhood
Apart from the safe and secure environment offered by the guarding system while living in gated communities, the monitoring activity creates a feeling of privacy that allows you to conduct your business without any interruption from anyone.
4. Exclusivity
One of the most attracting features for families looking for living in gated communities is that these are perceived to be exclusive neighbourhoods. They seem like the modern version of the kingly castles where people love to live.
5. Quiet Atmosphere & Lush Green Surroundings
The gated communities are guarded from pollution and noise, which is why the environment remains clean and peaceful. The green surroundings give you pure air to breath and restore the freshness of the ambience. Despite living in or around the urban areas, you can still feel the peace and serenity of the environment without the hustle and bustle of cities.
Demerits
1. Expensive
When so many premium features are clubbed to offer you the much desired paradise, living in gated communities obviously demands you to shell out more money. The homes in gated communities have higher value than any other home in a typical neighbourhood. This is why, the price required to be paid for the grandeur and exclusivity of living in a gated community can be a major drawback for many.
2. High Maintenance Costs
There are several additional costs that may have to be complied with while living in a gated community. High property taxes, homeowner association fees, regular maintenance charges for sewage / garbage cleaning, fees for utilising modern amenities, home maintenance, etc.
3. Accessibility & Commutation
Not all gated communities are located centrally and sometimes, to give you the peaceful ambience, they are located at places from where finding public transports and access to markets, hospitals, schools, etc. may be difficult. Getting that rare combination of an ideal home that provides easy accessibility to necessities is not easy.
4. Adherence To Neighbourhood Rules
Living in a gated community comes with the compulsion of following the rules of the neighbourhood. These rules may vary and be stringent in a way that may abstain you from choosing different colour for painting the outside of the home. Some rules may even not allow you to keep trash outside your home for more than a day.
5. Invasion To Privacy
Though there is enough safety and guards are available for monitoring the activities outside, but it may cause invasion to the privacy that should come while living in a gated community. The guard knows who comes and goes from your home and what kind of dealings you have with different people. This fact might be annoying for your visitors too. In fact, if not guards, then breaching the automated gate codes or crossing the little fence around gates is not a tough task in the world where crime rate is increasing.