10 Natural Astringents To Get Fair Glowing Skin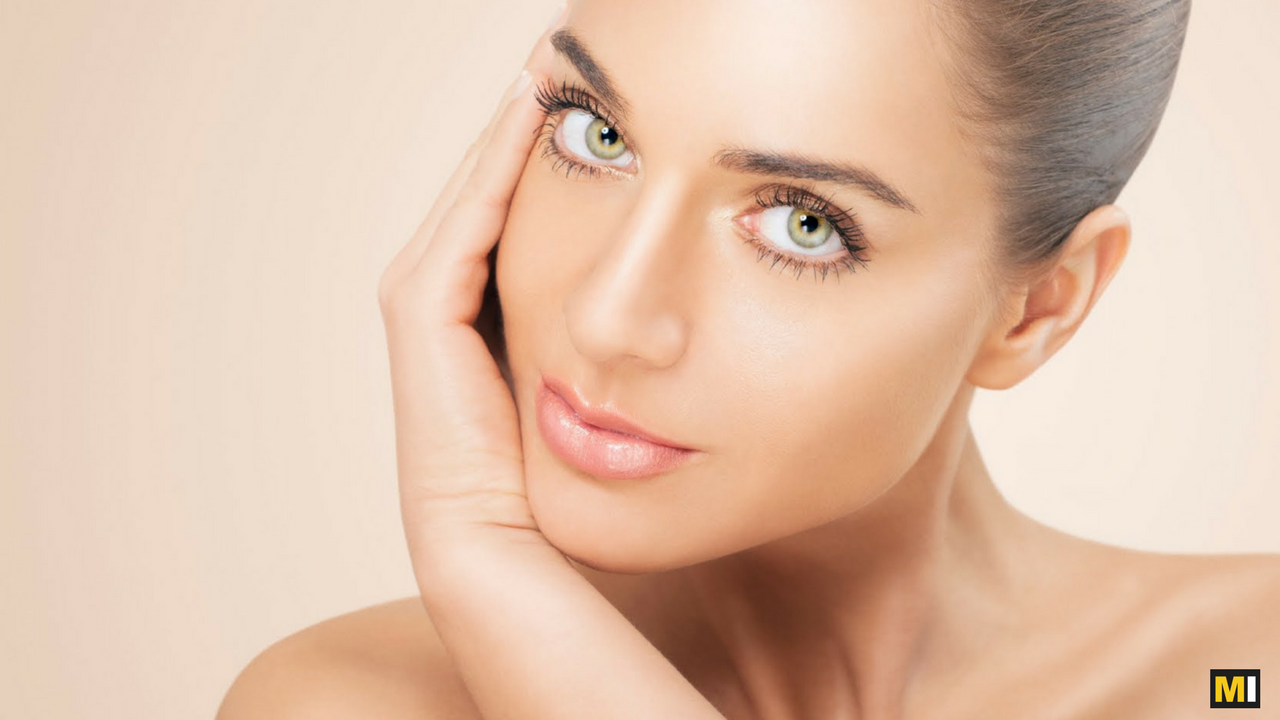 An astringent is a chemical compound known to shrink or constrict body tissues. Astringents are used to cleanse skin, close and tighten skin pores. This chemical compound works wonder for oily skin as they dry up excess oil present in the skin pores.  However excessive use of astringent especially alcohol based astringents can cause too much dryness of skin disturbing the natural pH balance of skin. Natural astringents are great for getting glowing skin as they work much better than skin toner making skin smoother and naturally fair looking. Some common natural astringents are witch hazel, cucumber, green tea. Now getting fair looking glowing skin is no more a dream. Here are the best natural astringents that can help you in getting natural fairer skin.
1. Apple Cider Vinegar
Apple cider vinegar is an excellent natural astringent having loads of benefits for your skin. It not only cleanses and shrinks the skin pores but also reduces inflammation regulating the skin pH balance. Apple cider vinegar has antiseptic and anti-fungal properties which help to detoxify your skin really fast giving you softer and fairer complexion.
2. Witch Hazel
One of the most common natural astringent is witch hazel which is quite effective for oily skin. However, you can use alcohol free witch hazel which cleanses skin pores effectively and also helps to get rid of dead cells and bacteria. Witch hazel is known to make your skin naturally glowing.
3. Green Tea
Green tea is most widely known natural astringent that can help you get amazing glowing skin. It is rich in antioxidants and catechins. Antioxidants fight free radicals that cause wrinkles, dark spots, fine lines and ageing spots, and on the other hand catechins make skin tighter and firmer making skin young looking and healthy. Green tea is a great skin toner and it is an amazing agent that protects from sun damage.
4. Rose Water
To be honest, every woman has this natural astringent in her own beauty kit. Rose water is a very common natural astringent easily available in markets and all of us already using it. It not only helps you to get healthy fairer skin but also it reduces the size of skin pores making skin tighter. It balances skin's pH level reducing the inflammation as well as irritation. It is great for sensitive skin. This natural astringent is an amazing way to cleanse your skin keeping it healthy forever.
5. Lemon Juice
Lemons are rich in vitamin C and are one of best ever natural astringents having natural antiseptic qualities too. Lemon juice is a great skin toner and also clears clogged pores. It is best for both oily and dry skin. It reduce acne breakouts and rejuvenate both oily and dry skin. Lemons have also natural bleaching properties that gives you natural healthy glowing skin.
6. Mint
Mint is another natural astringent that is very common in everyone's kitchen pantries. It not only cleanses your skin leaving behind a refreshing aroma but also soothes your skin reducing irritation, itching and redness. It gives you even skin tone and the salicylic acid present in mint leaves helps in removing dead skin cells.
7. Calendula Flower
Calendula flower is known for its astringent, anti-inflammatory and soothing properties. It is one of the best healing herbs rich in powerful antioxidants. This natural astringent soothes inflammation, reduces fine lines, gives you even skin tone, improves skin elasticity, reduces damage from free radicals and sun exposure, reduces itching and irritation, smoothes skin tone giving naturally glowing skin.
Recommended: Beauty Tenets To Look 10 Years Younger
8. Cucumber
Cucumber is a mild astringent which is rich in silica, the compound that helps to reduce wrinkles and fine lines. Cucumber is a great natural remedy for dark circles and puffiness around eyes. It is also rich in vitamin C and caffeic acid that soothes irritation and itching and reduce swelling. It's a great skin cleanser that naturally brightens skin and is good for extra dry skin.
9. Tomatoes
Tomatoes have natural oil reducing properties which makes it a natural astringent. This natural astringent helps in shrinking pores, cutting out excessive oil, reduces acne breakout, cleanses skin making it more fair looking. It removes skin tan naturally giving a refreshing and glowing skin.
10. Elder Flower
Elder flowers are rich in bioflavonoids that help in inhibiting wrinkles formation and also slow down the ageing process. The astringent properties present in this flower tightens skin reducing skin pores and also smoothens skin tissues. The antioxidants present in elder flower protects against sun damage and free radicals damage. Elder flower is good for all skin types, it has anti-microbial and anti-fungal properties that keeps skin healthy and clear.
Recommended: Top 10 Homemade Hair Conditioners