Why Procrastination At Work Is Good Sometimes?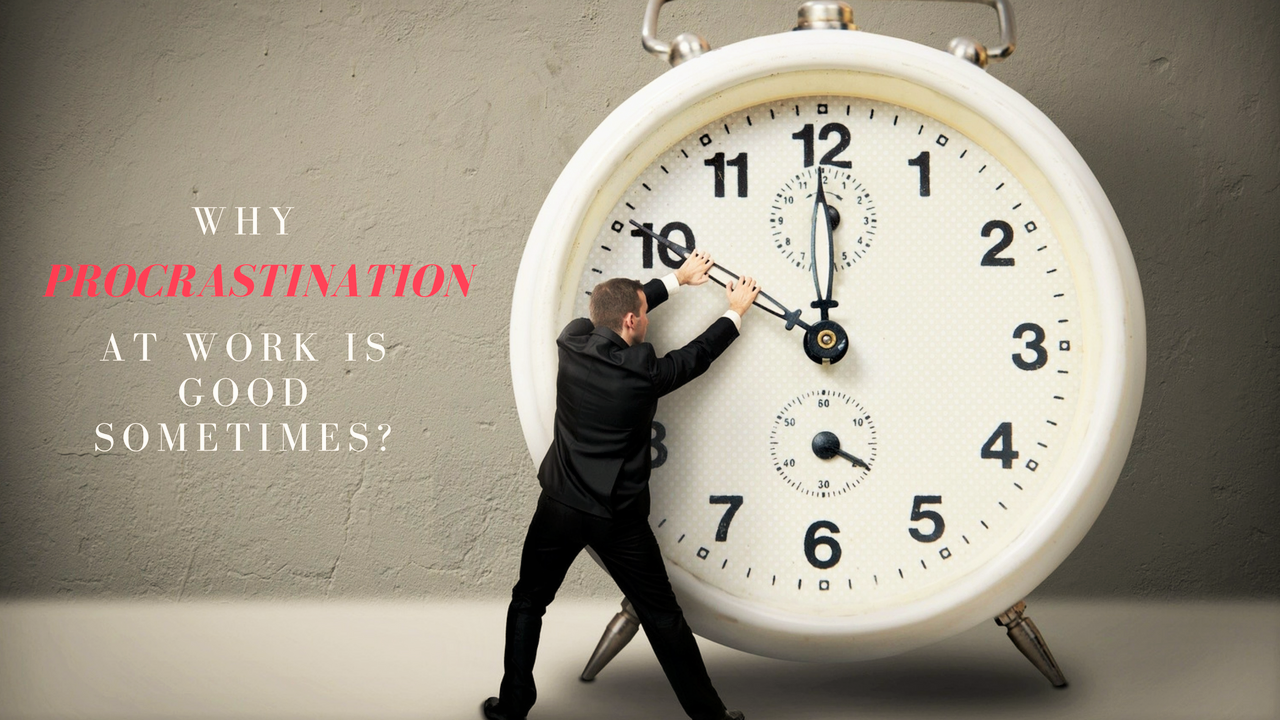 Procrastination has obtained a bad repo for itself in every field. Procrastinators are less liked and preferred as compared to people who finish their work before the deadline. But actually procrastination enhances productivity as well as effectiveness. Because when a solid external force or cause impels someone to get things done due to the lack of time, things get done faster and effectively. Last minuters are actually talented and productive people because they invest their complete energy, skills, time to finish that specific task. Procrastination saves your unlimited potential for your sanity and overall wellbeing. Here are the reasons why procrastination at work is good sometimes.
1. Procrastination enhances your creativity
Procrastination let's you work beyond your abilities and skills. When you go beyond your abilities you nurture your creativity. You brainstorm your mind and come up with creative and out of the box ideas which enhances your creative side.
2. Procrastination gets maximum things done
In the process of procrastinating you flow with a constant pace of work in which you invest your energy for the only goal that is completing all tasks. And when you seek perfectionism you simply get all things done, even if it's not in your list.
3. Procrastination eliminates unnecessary tasks
And when you're not a perfectionist, you focus only on necessary and important tasks that need more attention ignoring the unnecessary works which saves your time in return.
4. Procrastination saves your maximum time
As I said above procrastinators always enjoy their time. Because when they are on their energy saving mode they do all those things that they really love and even after procrastinating they complete the tasks that are more important which also saves their maximum time.
5. Procrastination highlights the priorities
When you procrastinate you find out the things that are on top priorities. You classify your work on the basis of high priority, which means your work gets finished on time every time than even effectively and perfectly.
6. Procrastinations helps in making better decisions
When you get a job to finish you completely get confused which work should be done when and which is more important and finally jump into all conclusions you start working blindly ending up creating a big mess. But procrastination gives you ample time to analyse the entire task, the urgency of each work segment, the rules and norms and finally you start your work at the last moment being the show stealer.
Recommended: 12 Effective Ways To Stop Wasting Your Time At Work
7. Procrastination keeps you in energy saving mode
Procrastinators are the most disturbing and fun loving individuals at every work place that is because they spend their time in other works that they love to do. Hence they stay happier keeping themselves in energy saving mode to work at the last moment effectively.
8. Procrastination reduces stress
When you procrastinate you don't stay stressed constantly specially at work. And stress at work is the most crucial reasons why people are less productive and more fatigued because all of their energy drains out at work making them completely exhausted.
9. Procrastination helps you to work under pressure
Procrastination means starting the work at the last moment and finishing it just before the deadline, which means more work, less time, more energy and huge pressure. Hence the process of procrastinating makes a person able to work wonderfully under pressure due to the solid experience.
Recommended: 10 Tips To Effectively Utilise Your Time Like Successful People