Sunny Leone's Fitness and Diet Plan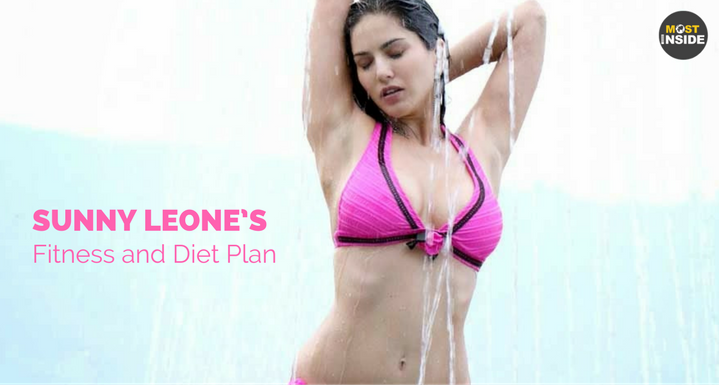 Karenjit Kaur Vohra popularly known as Sunny Leone who is Bollywood's bombshell, gained media's solid attention after starting her fame journey with Bigg Boss Season 5, 2011. After being caught by the limelight, Sunny got several ventures in her pipeline which were the commercial hit films Jism 2(2012), Jackpot (2013), Ragini MMS 2(2014), EK Paheli Leela (2015), Mastizaade (2016). Sunny stated after the release of her first film in Bollywood that when she watched herself in the film she realized that she needs to workout more to keep her body in shape. After her efforts, Sunny Leone has now turned herself into the most sexiest actress in the Bollywood with toned figure and marvellous body. Her fans and admirers believe she has got a perfect sexy body which she carries confidently and effortlessly. Let's have a sneak peek on Sunny's Fitness and Diet routine plan.
Sunny Leone's Fitness Plan
Sunny takes gymming quite seriously and spends time at gym twice or thrice a week. Workout at gym is mandatory for her as she believes going gym once in a while is not gonna help you to gain a fit body.

Sunny prefers more cardio exercises for entire 45 minutes to keep her in shape. She mixes both weight training and cardio exercises almost every day.

Sunny prefers spinning workout which is an actual spin bike for those women who want to get rid of cellulites to keep butt and thighs toned.

For her legs and lower body, Sunny does plenty of squats, lunges, push-ups.

Her busy schedule makes it difficult for her to go for gymming, hence Sunny loves yoga for 30 minutes which keeps her body fit as well as her mind calm and peaceful.

For sizzling beauty like Sunny Leone, pilates are the best options to burn calories and improve body shape. Sunny believes pilates increase body energy levels and flexibility.

For her upper body to keep arms and stomach strong, Sunny does boxing that not only keeps her strong but also her arm and stomach quite toned and flat.

Sunny starts her day with 20 minutes of walking every day. She says that walking is the best workout to kick-start your day and maintain the energy levels throughout the day.
Recommended: Alia Bhatt's Fitness & Diet Plan
Sunny Leone's Diet Plan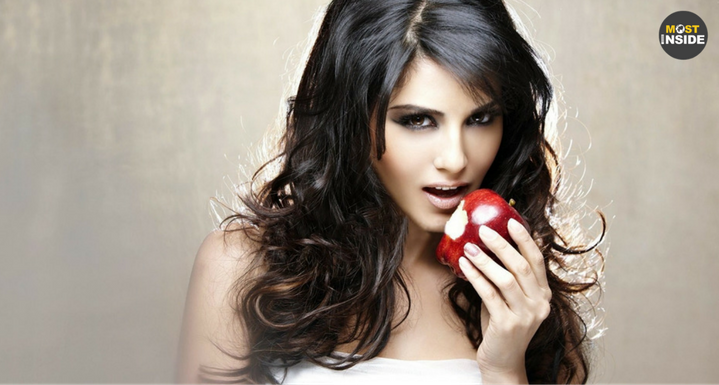 Indo-Canadian and American actress Sunny Leone is not a promoter of eating less. She loves to balance her meals to stay in shape.

She is a coffee addict hence starts her day with a cup of coffee. Her advice for those who cannot go without coffee could opt for black coffee in a minimal quantity.

She strictly avoids junk food as she has to say India is a country where food cannot be complete without oil so she opts for healthy eating.

She keeps her refrigerator filled with healthy foods so that if she starves she cannot have any junk foods.

Her breakfast consists of egg whites, toasts and a glass of fresh milk to keep herself energetic all day.

She loves to have healthy chicken salad with veggies without any heavy salad dressing in her lunch.

For snacks, Sunny goes for fresh fruits, nuts or anything healthy over junk and oily foods.

For the dinner she opts chicken with veggies salad, sometimes fish.

Sunny drinks lots of water to keep her skin glowing naturally. She also loves to have coconut water on regular basis to keep her system properly hydrated.

She opts to consume 100 calorie snacks before having meals to avoid hefty eating with unwanted calories.

She eats her food clean and consciously counting calorie intake, hence she avoids sugary soft drinks.

She loves chocolates and when she feels to eat some chocolates she goes for dark chocolates as they are low in calories and good for health too.
Recommended: Beauty and Fitness Mantra of Deepika Padukone
Health Tips by Sunny Leone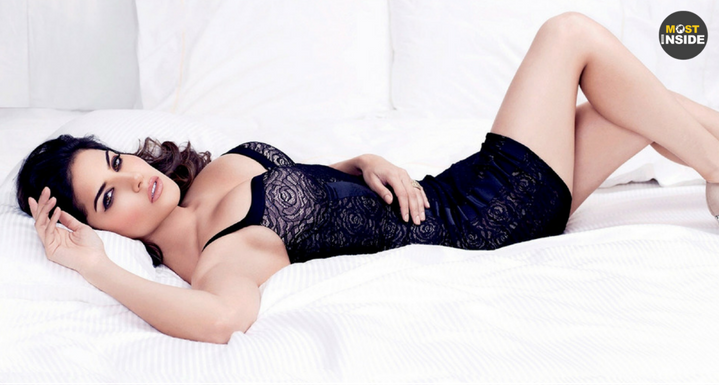 Drink lots of water as it keeps your body hydrated and your skin acne free.

Intake of coconut water regularly, has cooling effect on your stomach which improves digestion.

Food with less salt is always good unless you have low blood pressure, as excess salt leads to bloating.

Starting your day with 20 minutes of walking can be super helpful to burn calories and stay active.

Exercising regularly is must to stay in shape and improve metabolism.

Replacing junk foods with healthy fruits and veggies can be effective in losing weight.
Recommended: Sonam Kapoor's Fitness & Diet Mantra