7 Easy Beauty Tricks For Working Women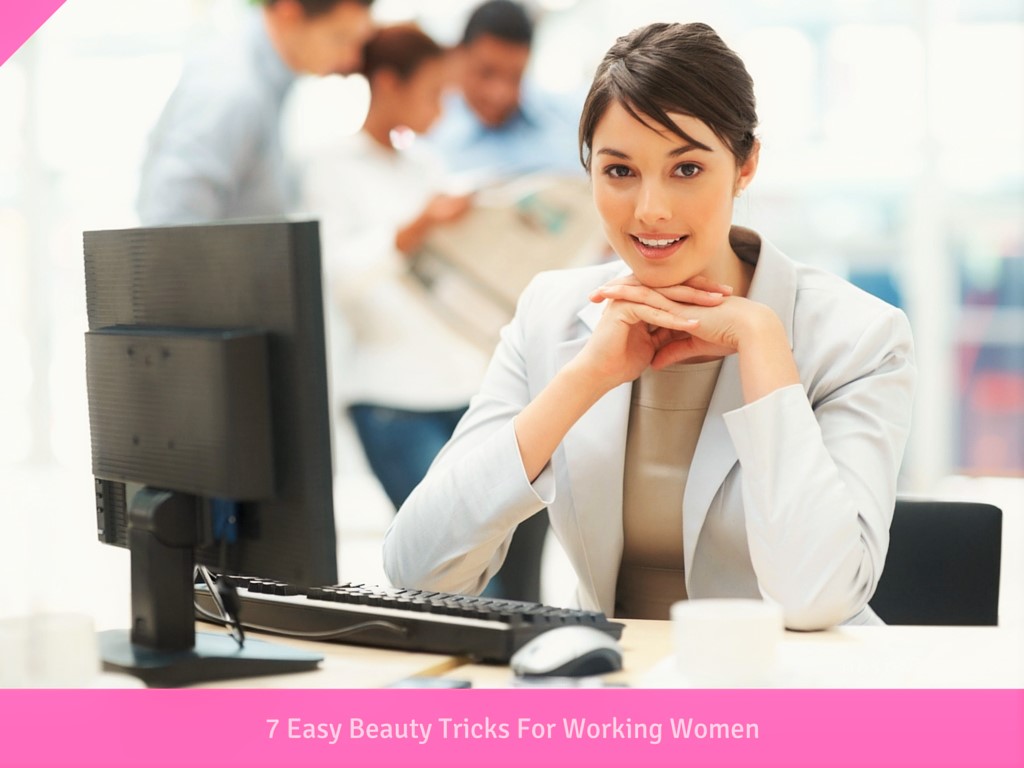 Gone are the days, when women used to be confined in their kitchens! In this modern life, outlook of people is drastically changing owing to which more and more women are coming out of the closet and have conquered important positions in the corporate world. To give head on rivalry to the men out there, women are competing by giving extra hours to work and they have become ambitious and passionate towards their work.
While being so much busy in their life by managing household chores and work at office, women now hardly find time to take care of their skin. Forget about the long process of pampering their skin, they even don't find time to follow a proper skin care routine. In order to be presentable at any time and to give yourself a boost of confidence, you must ensure that you are extremely loyal to your skin.
You are wrong if you perceive that maintaining a beautiful skin is the work of expensive beauty products with high chemicals. With simple beauty tricks, you can flaunt a glowing and flawless skin but what you need to have is patience. So if you want to ditch those extremely costly chemical based beauty solutions, then you need to have a sneak peek at these 7 easy beauty tricks for working women:
Moisturise Your Skin With Oil Before Bathing
You might find it tiring and may even hate applying oil on your body as it can cause discomfort. But if you regularly apply coconut oil or avocado oil before bathing and leave it for half an hour on the body, then you will notice that after bathing, your skin will be thoroughly cleansed and your skin will become lusciously soft and hydrated. These oils clear all the dirt accumulated in your skin pores and helps in the growth of healthy cells.
Avoid Using Chemical Based Face Washes
The chemical based face washes are composed of many complex chemical formulations that can rob your skin's radiant glow after usage for a long time. When you work, your skin may look tired or become oily and your pores may get clogged by dirt due to which you must wash your face at least thrice a day. So put your cosmetic face washes inside the trash can and start using green tea soaked water to refreshing your skin. At night, use aloe vera pulp to wash your face and see the magical shine on your skin.
Have Moderate Amount Of Coffee
Coffee is a wonderful ingredient to make your skin look young and supple. Though having coffee more than twice is a day is surely a bad idea! Have two cups of coffee a day and you will gradually notice that the puffiness of the eyes, inflammation and cellulite appearance on the skin is getting reduced. But you must remember that coffee causes dehydration. So every time you have coffee, try to drink more water to keep your body and skin hydrated.
Prefer Cold Water For Shower
You may hate having shower with cold water and might prefer going for hot water shower as many people believe that hot water shower cleanses the skin deeply. But the truth is that the hot water shower leaves dryness in your skin by eliminating all the moisture stored in the skin cells. On the other hand, cold water soothes your skin's upper layer, which is sensitive and relaxes you to the core.
Recommended: Top 5 Fruits For Instant Skin Glow
Keep Dark Circles At Bay Using Almond Oil
As per many medical researchers, the stress levels among females is much higher in comparison to males and their skin shows it in the form of dark circles. The causes of dark circles can be numerous. So besides having a healthy diet, good management skills at work and home along with properly maintaining body's hydration levels, you can also do a quick massage of your under eye area by using almond oil. Dip your ring finger in almond oil and softly massage the under eye area before sleeping. Maintain consistency in following this procedure as the results may be slow.
Use The Magical Olive Oil
Being a working woman, you need to travel a lot while fulfilling all your duties at home. So you are more dependent on the moisturisers available at cosmetic stores to make your skin feel revitalised. But if you make a habit of applying olive oil on your skin soon after bathing, then you would not require those cosmetic moisturisers to heal your skin, even in winters. The rich quotient of vitamin E in olive oil will be deeply absorbed into your skin and you will start noticing the difference after continuous usage for at least one week.
Eat Chocolate To Protect Skin From Pre-Mature Ageing
Try to eat one or two piece of dark chocolate every day to improve your skin texture and thereby minimise the chances of pre-mature skin ageing, which is common among working women. Stress and pressure at work while managing your home and other responsibilities can make your skin look older. Since dark chocolates are loaded with vitamins, calcium, iron and antioxidants, they keep your skin moisturised from inside while preventing wrinkles.