Know Why Goa Is Every Honeymooner's Delight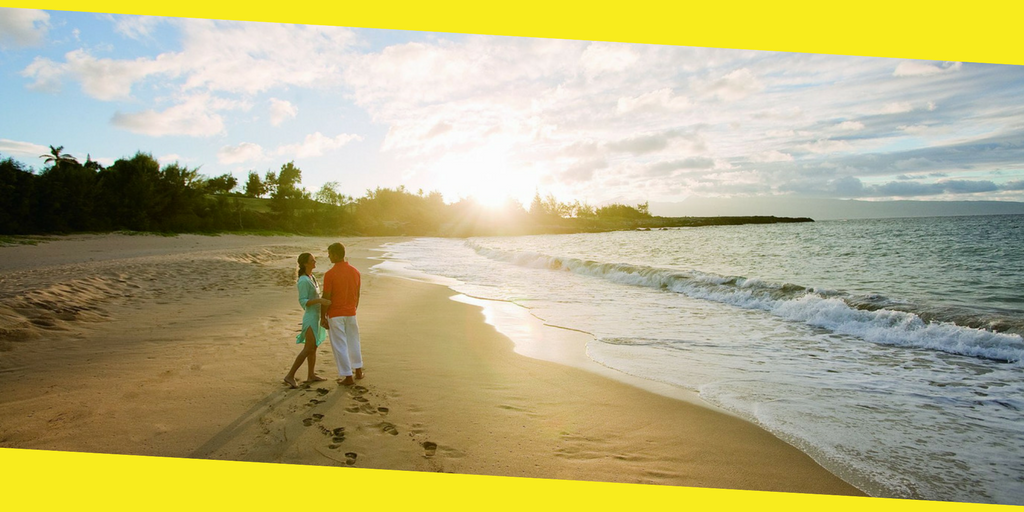 Every newly married couple wants to spend some time in seclusion amidst most romantic ambience  to give them a break from the routine and to enhance their emotional bond. For a perfect romantic beginning to your new journey together, Goa is undoubtedly the best option because this heavenly place is blessed with natural beauty where the golden beaches, shimmering shores, beautiful rivers and architectural splendours will surely alleviate your honeymooning experience. Goa is popularly known as the beach capital of India and the cultural traits here exhibit the beautiful confluence of the east and the west.
Honeymooners can enjoy the picturesque locations and virgin beaches either for a romantic escape or for enjoying water sports. Goa has fantastic weather round the year, however, you can skip the summers for more wonderful experience. Winter is the best time to visit Goa and though Goa may feel crowded but this crowd itself makes this place lively and you still can grab lots of privacy with your partner. The carnivals, night-life, Portuguese culture and tradition, dolphin cruises, water skiing,  bird sanctuaries, forts, churches, para sailing, etc makes Goa an apt place to celebrate your life's new beginning.
Tourist Places In Goa To Visit During Honeymoon
Dudhsagar Falls
Dudhsagar falls is not only popular in Goa but also in whole India owing to its pristine milky looking water. This waterfall is situated in Mahavir Wildlife Sanctuary at Collem in South Goa and apart from enjoying this amazing beauty, you can enjoy trekking here.
Vagator Beach
Vagator beach is characterised by the awesome looking red precipices along with two new water springs. Sitting on the rocks with sound of the sea waves and holding hand and hand to watch the jaw-dropping sunset view here is something you will never forget.
Harvalem Waterfalls
Located near Sanquelim village along the way from Mayem lake is Harvalem Waterfalls that offers mesmerising surroundings. Also there is magnificent looking Rudreshwar temple in this region that makes this place look peaceful and pious.
Anjuna Beach
Anjuna beach is located to the south of Vagator and Chapora and is one of the most sought after holiday spots in Goa. This beach is basically crowded due to its versatile water sports, night-life and flea market.
Calangute Beach
The Calangute beach is known as the Queen of Beaches in Goa and is the most prominent tourist place here due to its night life. Even foreign tourists prefer to spend their evenings in this beach. With water sports to enjoy during the day and amazing party life in the night, you must definitely not miss visiting this place while you are honeymooning in Goa.
Ponda
If you are a nature lover, then missing this place on your honeymoon will be a big loss. Ponda is an exotic place surrounded with greenery and hosts grand and ancient temples making it different from other crowded parts of Goa. Ponda is also near to Bondla and Mahavir wildlife sanctuaries and this place will definitely leave you enchanted by its unaltered beauty.
Panaji
The capital city of Goa is basically structured as per the Portuguese culture. The Portuguese Baroque style structures and marvellous looking villas along with ancient churches make this place look raw and beautifully designed. Panaji beaches offer a varied range of water sports to enjoy with your loved one and you can even go for spas in the afternoons to get yourself groomed up for an evening candle light dinner.
Baga Beach
North Goa flaunts the Baga beach that stretches from Sinquerim, Candolim and moves towards Calungate to reach Baga. The highlight of this place is para sailing, banana ride and dolphin cruises that gives you the required kick of adventure amidst the peaceful sea shore.
Colva Beach
This is one of the highly popular vacation spots in entire Goa and its whitish silver sandy beach is perfect for couples who love to enjoy sun bath. Located at a distance of around 7 kms from Margao, Colva beach has beautiful looking shore and over the time has emerged as the favourite spot of honeymooners.
Dr. Salim Ali Bird Sanctuary
If you are looking to spend your evening the most romantic way possible, then visiting this bird sanctuary is a must. The scenic beauty creates the perfect romantic ambience while the chirping of birds seem to be the most soul soothing music. Simple walks on this bird sanctuary can fill your heart with peace and joy.
Divar Island
Located at the Mandovi stream of Goa and in the range of 10 kms from Panaji, Divar Island is a serene place where you can enjoy viewing the paddy crops on one side and lush hills on the other. If you really want to enjoy the unpolluted air of this place while viewing scenic places here, then prefer taking a bicycle ride together to enhance the level of romance and adventure too.
Betalbatim Beach
If you are tired of being in crowded places, then Betalbatim beach is your paradise. Known as the dusk beach or couple's beach of Goa, this place is an extension of golden sand beach in between Majorda and Colva beach. This awesome and isolated beach remains less populated despite being located centrally. All you need is your picnic mat, packed food, swimming essentials and an incredibly romantic day is waiting for you.
Cotigao Wildlife Sanctuary
Apart from the conventional beaches and coconut palm trees and night-life, you can explore more of Goa by visiting the Cotigao Wildlife Sanctuary that comprises of multi-storey forests densely populated with rare trees and plants. You can even spot some Porcupines, Hyenas, Gazelles, etc and enjoy the natural and melodious sounds of the jungle.
Loutolim
This is a small town located in Salcette taluka of South Goa, which hosts spectacular looking ancestral Goa, Miranda Mansion and Casa Alvares that exhibit how rich and well preserved Goa's culture is.
Rivona
While you are on a Goa tourism spree, then visiting Rivona village is worth your time. This village is known as the cradle of Indian civilisation and a place where Buddhist legends evolved. There are amazing Rivona caves and Shri Yimleshwar that have become popular landmarks here.
Mayem Lake
Romantic evenings be like enjoying togetherness in peaceful ambience and if it is through boating, then the experience has to be incredible. Mayem lake in North Goa is highly popular among couples as the lake sits on a wooded shore and you can go boating while spotting a wide range of beautiful birds.
Pascoal Spice Village
Located around 8 kms away from Ponda National Highway, the Pascoal Spice village undoubtedly smells fragrant due to large scale cultivation of spice, tropical fruits and nuts plantation. You can even spot Mandovi River that makes this village look dramatically beautiful. You can grab an opportunity of boating too.
Recommended: 10 Things To Know Before Going On Honeymoon Trip
Goa's Historical Heritage
1. Basilica Of Bom Jesus
The Basilica of Bom Jesus is a UNESCO World Heritage Site that is situated in old Goa. This church was founded in the year 1594 and contains the corpse of St. Francis Xavier that remains the same even after centuries. You will be astonished to see how the architectural beauty still looks amazing despite being centuries old.
2. Se Cathedral
The Se Cathedral, originally named as Se Catedral de Santa Catarina is a symbol of Portuguese-Manueline architecture that was constructed in celebration of the victory of Portugal over Muslim army in 1510 under the influence of Afonso de Albuquerque.
3. Church Of St. Francis Of Assisi
The church of St. Francis of Assisi aka Reis Magos Church is also a Portuguese influenced architectural beauty that was built in 1661. The main entrance, buttress walls and the chapels display the love for art by the Portugal.
4. Cabo De Rama Fort
This is yet another scenic place in Goa that symbolises Portuguese culture. Cabo De Rama Fort was captured by the Portugal when they defeated King Soonda. Inside this fort, you can view the amazing church of Saint Antonio.
5. Aguada Fort
The highly maintained seventeenth century Portugese fortress, Aguada Fort, located on the Sinquerim beach facing the majestic Arabian sea is one of the biggest and great posts in the history of Goa. The soothing breezes of the sea and the beguiling ambience sets the perfect mood for a romantic evening.
Important Places For Shopaholics
1. Ingo's Saturday Night Market
This market is a heaven for shopaholics and is very planned in terms that it has been divided into three parts, viz., pashmina, spices, cushions and hammocks on the Lower Field, international and local designer apparels and accessories on the Central Field and the Upper Field basically has more of international designer clothes and various other items. This market offers various cuisines for the food lovers and also has great alcohol options.
2. Mackies Saturday Night Bazaar
As the name suggests, this market is open only on Saturdays from 6.00 pm onwards from November to April. While you enjoy shopping, you can also delight your partner by dancing on the dance floor where music is played by a live band and performed by Indian and international artists, dancers, jugglers, fire dancers, belly dancers, etc.
3. Mapusa Market
You can even visit Mapusa market that is open on all days except Sunday. Mapusa market is one stop shop for all authentic stuff from Goa, be it spices, clothes, vegetables, fruits, antiques, handicrafts, etc.
4. Anjuna Market
This market is famously known as the flea market and is held every Wednesday in the grove of coconut palms between the rocky Anjuna beach and the fallow rice paddy crops. The market is beautifully chaotic and filled with many colourful clothes, handicrafts, shoes, spices, musical instruments, chunky jewellery, etc and the scope of bargaining is good too.
With so much to offer in a small union territory like Goa, you will have to spare a lot of time for your honeymoon and since Goa is an ideal destination for romance or adventure seeking couples, you will have to spare from extra budget and plan your trip well in advance.
EXPLORE MORE