13 Lessons To Learn From Sundar Pichai To Become A Successful Leader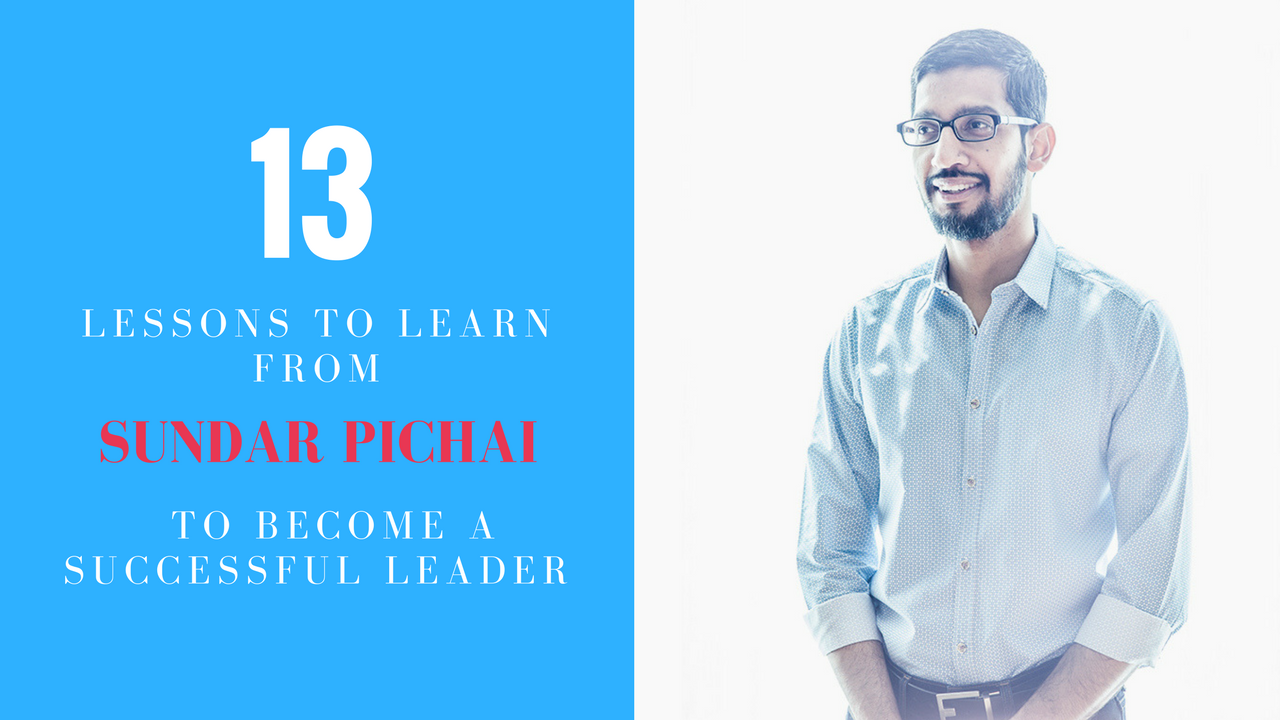 Having attained global popularity after being announced as the CEO of Google Inc., Sundar Pichai has become a role model for people across the globe. Known as a self made man with poised demeanour, he is an inspiration for the young generation trying to find the right path to success. The Indian American is known his polite nature, simplicity and dedication towards work and his personal life. According to a tabloid, Sundar Pichai was extremely skilled in keeping away from the drama and politics at Google, which helped him to focus on his career growth and build an influential persona.
It has been known that when he reported to Marissa Mayer, he used to sit outside her office, for hours if required to ensure that his team earned positive performance reviews that they deserved. Adept at handling tough negotiations, positivity in his blood and a great team player, here are 13 life lessons to learn from Sundar Pichai to become a successful leader:
1. Constantly Think About The Next Best Action
Sundar Pichai believes that at any given point of time in life, what needs to be focused is that we boast innovative thinking for a better future. This in fact, should become a normal course of thinking and for developing this habit, you must deliberately keep on thinking what should be your next best action.
2. Keep Yourself Update
The world is developing at a faster pace and in order to figure out ways to survive and offer cut throat competition, you need to reinvent yourself on an on-going basis.
3. Broaden Your Outlook & Be Ambitious
To deliver out of the box solutions, it is important to think big about big problems and think of more ambitious ways to tackle the issue. Being ambitious helps in keeping your motivation levels high and such kind of attitude can help in attaining big successes.
4. Take Actions To Bring Your Dreams Into Reality
A dream that wakes up your inner self will drive you to take planned actions to get them to reality. Just dreaming and hardly taking efforts to actualise them was never attached to your life goals. Success comes to those who don't just wait but put sincere efforts to earn it.
5. Pursue Your Passions
Are you passionate about something that makes you feel lively and unleashes the best out of you? If yes, then do things that excite you because such activities help in de-stressing your mind and makes you more productive.
6. Learn To Take Risks & Try Till You Succeed
When something excites you but there are hard decisions to make, then take the leap if you really think that you are right. Taking risks is worth and even if you fail, never stop trying. Numerous things that amaze the world have been made after umpteen attempts.
7. Wear Failure As A Badge Of Honour
Many entrepreneurs have achieved success after a series of failures. When they started their companies and failed in their endeavours, they wore it like badge of honour. They ensure that their failures drive them to find newer ways to succeed.
8. Work Smart Not Hard
As a matter of fact, Sundar Pichai is known as a family oriented person who is not workaholic. Being a person hooked to great work ethics, one of the most important life lessons to learn from Sundar Pichai is to work smart and not hard, in order to boost efficiency and productivity levels and maintain great work life balance.
9. Be Diplomatic At Work
It is well known that Sundar Pichai is a down to earth person and has a diplomatic attitude, specifically at workplace. In fact, it is due to his diplomacy at work that he hardly ever got involved in office drama and politics. Having such attitude makes you more approachable and trustable.  
10. Follow Work Ethics & Maintain Cordial Relationships
Sundar Pichai is among the most popular bosses at Google and this is because he believes in maintaining open and friendly lines of communication with the employees. With the way he manages his staff, he has become one of the most respected leaders there.
11. Use Your Insecurities Positively
Another important life lesson to learn from Sundar Pichai is that we should never get worried or ashamed of our insecurities. Feeling insecure implies that you are working with some seriously talented people and it is now your opportunity to learn new things and grow. Moreover, if you are doing things that make you feel secure, then you are not trying to come out of the comfort cocoon to do something unique.
12. Start Local, Go Global
People are increasingly gaining confidence as internet is becoming highly accessible and is giving rise to the digital revolution. This gives you the opportunity to handle the operations of a larger domestic market, thus giving you the confidence and knowledge to tackle the global level issues as well.
13. Be Creative & Master Your Work With Practise
Instead of just learning how to do things, why not use your creativity to try doing things while learning them and then become a master with constant practise? This definitely helps in giving you an edge over the others while challenging you to overcome your inhibitions.
READ MORE
7 Inspirational Life Lessons To Learn From Ratan Tata
Inspirational Things To Learn From Steve Jobs